Prof K P Singh, Vice – Chancellor MJPRU has got extension for three years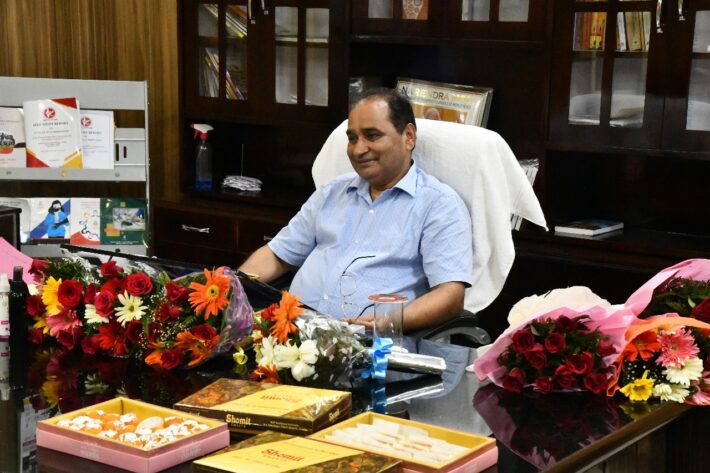 A.C.Saxena
Bareilly: Chancellor andf  Governor  Anandiben Patel has appointed the current Vice Chancellor Professor KP Singh of Mahatma Jyotiba Phule Rohilkhand University Bareilly as Vice Chancellor for three years from the date of taking charge.
Yesterday , on the joining his office as new VC, he got warm welcome from the staff , faculty and officers of the University.
It may be noted that Vice-Chancellor Professor KP Singh took charge as Vice-Chancellor on 17/08/2020. Rohilkhand University Bareilly has achieved unprecedented success in every field through him in the last 03 years. Some of the important works done by him are as follows-
MJP Rohilkhand University became first state university to implement National Education Policy-2020. Impressive academic reforms have been carried out where a record number of B.O.S were conducted in 2021 and 2022 where all the UG and PG courses were revised in line with NEP-2020. Special emphasis has been placed on enhancing the academic and research environment. The University has adopted and taken over 14 Constituent government colleges, the highest number for any State University. Several national and international collaborations and MoUs have been established . In recent times, online teaching and learning has been promoted to deal with and solve challenges such as the Corona pandemic.
Rohilkhand Incubation Foundation was inaugurated by  Governor/Chancellor  Anandiben Patel which is a section 08 company. A registered Alumni Association was formed and alumni meetings were held regularly. Directorate of Research was inaugurated by  Governor/Chancellor  Anandiben Patel. Atal Artificial Intelligence Center has been established in the University. Center of Excellence in Women's Studies has been established. A Consultancy Cell has been established and Consultancy Policy has been formulated, approved and implemented.
The University encouraged the students to adopt the concept of "Earn while you learn" and in the process has established various experiential learning clusters in the areas of Hospitality, Legal Consultancy, Information & Technology, Plantation and Health Sector which are fully effective and functional. A record number of R&D projects and Center of Excellence projects worth Rs 2.0 crore have been awarded to faculty members in the last two years.
The university recently achieved a milestone where it was ranked second in the state in world education. Edu Ranking which is an independent ranking which is automatically generated and does not require any application for participation in the ranking. A student centric "University Student Support Center (USSC)" has been established where all the services related to the students e DSW, NSS, Chief Proctor and NSS related services are made available under one roof. Sports facilities have been strengthened and upgraded, resulting in a sports complex that is second to none among all state universities. Efforts have been made to regularize the academic calendar that has been derailed due to the Corona pandemic. Several national and state level inter-university athletic and sports events have been organized by the university. A full fledged Directorate of International Relations has been set up to structure the international relations and attract foreign students. Highly advanced and online Research Management System has been set up where all the details related to Ph.D supervisors, Ph.D. Thesis, publications, projects, MoUs etc. are available on the portal. Online thesis evaluation has enabled the process of thesis evaluation to be completed within the stipulated time frame.
Various new academic programs have been started in the University campus from the session 2022-23 by the Honorable Chancellor/Governor. Reforms in administration were done by the Vice Chancellor, bridging the gap between the University campus and its affiliated degree colleges. Restructuring and upgradation of the University website has been done after many years. Women Grievance Cell has been established for the first time in the University. The University has established a transparent procurement process by making all purchases through GeM portal and a fair procurement policy has been prepared after approval. and has been implemented. A transparent and fair policy has been developed for financial assistance to faculty members through Teachers Welfare Fund (TWF), where for the first time it has been decided to allow financial assistance to faculty members who have presented papers in international conferences. Provision has been made and Incentive policy has been formulated to support and encourage the faculty members with the objective of developing a healthy work culture. A complete system has been put in place for waste management. Fully functional micro irrigation system has been installed covering about 10 hectares of land. University has initiated "Teacher Samman Award" as a token of encouragement and appreciation to the faculty members, which will be given every year from 2021 on the "Teacher Day" to deserving faculty members. Electric vehicles have been promoted and developed to protect the environment and to make the campus green and pollution free.
Rohilkhand University Bareilly under the successful leadership of Honorable Vice Chancellor Professor KP Singh has received A++ grade in NAAC assessment. The B.Ed entrance exam was completed by Rohilkhand University Bareilly without any problem. The above works of Vice Chancellor have also been praised from time to time by Her Excellency Chancellor, Mrs. Anandi Ben Patel, Honorable Chief Minister of Uttar Pradesh, Mr. Yogi Adityanath. Keeping in view the above incomparable contribution made by the Vice-Chancellor Prof. K P Singh to Rohilkhand University Bareilly, a tenure of three years has been given to him by Her Excellency the Governor and Chancellor Smt. Anandi Ben Patel .
नोट:
अगर आपको यह खबर पसंद आई तो इसे शेयर करना न भूलें, देश-विदेश से जुड़ी ताजा अपडेट पाने के लिए कृपया The Lucknow Tribune के  

Facebook

 पेज को 

Like

व Twitter पर 

Follow

करना न भूलें...
-------------------------