Project Monitoring Group huddles to review progress of Expressway progress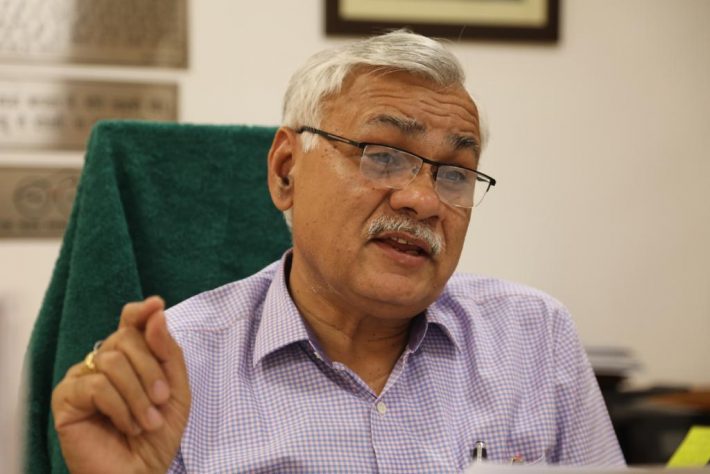 Lucknow: The progress of construction of Bundelkhand Expressway, Gorakhpur Link Expressway, Ganga Expressway was recently reviewed in a meeting of Project Monitoring Group held under the chairmanship of Chief Secretary of Uttar Pradesh Durga Shankar Mishra.
In his address on the occasion, Chief Secretary Mishra said that the expressways under construction should be completed as per the prescribed timeline. He said that the work of petrol pump, toilet and restaurant etc. on the expressway should also be ensured simultaneously.
While presenting the progress of construction of expressways in the meeting, it was informed that the total length of Bundelkhand Expressway is 296.70 km, it is 04 lane and it can be expanded to 6 lane and its total cost is estimated at Rs.14,849 crore.
Bundelkhand Expressway will pass through District-Chitrakoot, Banda, Mahoba, Hamirpur, Jalaun, Auraiya and Etawah. Out of the total length of the expressway 296.70 km, 217 km has been completed at bituminous level i.e. 217 km road is ready. In expressway, 84.70 percent work of long bridge, 81.55 percent of ROB and about 88.78 percent of flyovers has been completed.
The construction of 212 underpasses and 131 minor bridges has been completed. In the progress review of the construction of Gorakhpur Link Expressway, it was informed that till December 31, 2021, about 31.99 percent work has been completed.
A target has been set to complete the main carriageway by December 31, 2022. The construction of 113 culverts, 74 underpasses and 03 minor bridges has been completed till December 31, 2021. About 22.54 percent of the long bridges and about 41.21 percent of the flyovers have been completed and the remaining work is going on very fast. In reviewing the progress of construction of Ganga Expressway, it was informed that about 93.03 percent land has been purchased/acquired. The total length of the project is 594 km.
Under the project, 06 lane wide road which will be 08 lane expandable will be constructed and structures will be made of 08 lane width. The width of the right off-way of the expressway is 130 m and a service road of width 3.75 m is also proposed on one side of the expressway. Additional Chief Secretary and Chief Executive Officer, UPEIDA Avnish Kumar Awasthi, Additional Chief Secretary Industrial Development Arvind Kumar, Additional Chief Secretary Program Implementation Suresh Chandra, Secretary Chief Minister Alok Kumar and senior administrative officers of all concerned departments were present in the meeting.
नोट:
अगर आपको यह खबर पसंद आई तो इसे शेयर करना न भूलें, देश-विदेश से जुड़ी ताजा अपडेट पाने के लिए कृपया The Lucknow Tribune के  

Facebook

 पेज को 

Like

व Twitter पर 

Follow

करना न भूलें...
-------------------------
------------------------------------------------------
--------------------------------------------------------
-------------------------------------------------------------------
---------------------------------------------
---------------------------------------------------------------
---------------------------------------------------------
--------------------------------------------------------------------------
  -----------------------------------------------------------
--------------------------------------------------
----------------------------------------------------------------------------------------- ----------- -------------------------------------------------------------------------------------------------------------------------------------------------