Promoting Renewable Energy, Sarojininagar to be turned into a model solar assembly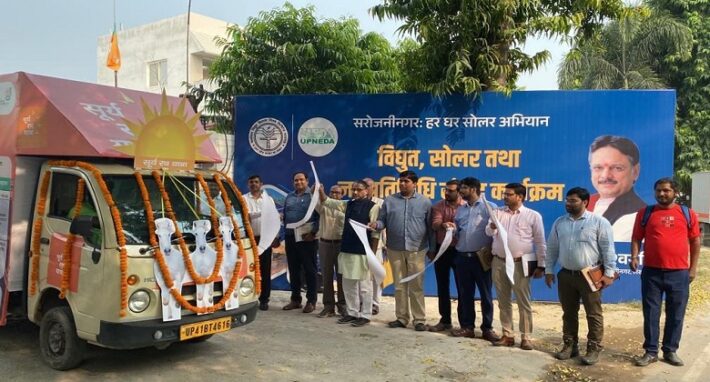 Lucknow: Emphasis is being laid on promoting the use of solar energy in Sarojininagar. To give new momentum to MLA Dr. Rajeshwar Singh's resolve to make Sarojini Nagar a solar assembly and in the context of 'Har Ghar Solar Abhiyan', 'Electricity, Solar and Public Representatives Dialogue Program' was organized at the MLA's residence in Ashiana.
In this program held in the presence of Executive Engineers of the Electricity Department, UPNEDA officials and Team Rajeshwar, future action plans were discussed to establish Sarojininagar as a solar model assembly and progress of electricity supply in the area. Review was also done. During this, 'Solar Rath' was flagged off to take the solar campaign to the public.
In the future, the work of promoting solar energy in large quantities will be done by disseminating the scheme to the public through street plays, booth level and pamphlets at 10 different places under the Vidhan Sabha. Sarojininagar Assembly will help in providing solar energy to the people of the area by setting up a solar desk in the MLA's office, Parag, located near Parag intersection in Ashiana area, in the form of solar power generation.
From the point of view of electricity supply, eight different blocks operate under Sarojininagar assembly constituency. In this dialogue program, there was also discussion on getting the required work done by preparing separate action plans for 08 sections.
In Sarojini Nagar, along with domestic consumers, the attraction towards solar plants has increased in the commercial and industrial areas also. For this, applications are continuously coming in the area, fulfilling the demand of the public, electricity connections are also being provided to them.
Interested beneficiaries of the area can get the plant established from authorized firms by applying and uploading the desired forms on UPNEDA's online portal www.upnedasolarrooftopportal.com.
The progress regarding solar scheme is attracting consumers. A large number of consumers have been covered by the solar scheme. Demand for solar plants has increased in industrial units in Sarojininagar industrial area and Amausi industrial area, solar units have been installed at many places. Efforts are on to achieve the target set in the Assembly. Apart from this, many works including installation of new transformers, capacity increase in transformers, feeder separation are being done to ensure uninterrupted power supply. Efforts are underway to improve the electrical infrastructure in the area.
In this dialogue program, District Project Officer of UPNEDA Mohd. Khurshid, Executive Engineer of Electrical Section Durgesh Yadav, Superintending Engineer Subhash Maurya, Ghanshyam Tripathi, Shobhit Dixit, Shailendra Singh Rajput, Neeraj and team Rajeshwar were present.
नोट:
अगर आपको यह खबर पसंद आई तो इसे शेयर करना न भूलें, देश-विदेश से जुड़ी ताजा अपडेट पाने के लिए कृपया The Lucknow Tribune के  

Facebook

 पेज को 

Like

व Twitter पर 

Follow

करना न भूलें...
-------------------------