Rafa all charged up to turn his Grand Slam tally 21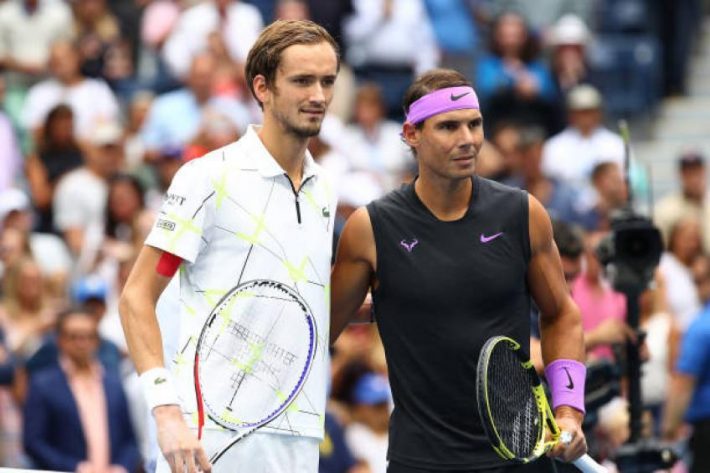 Melbourne: In the second semi-final of the Australian Open 2022, top seed Daniil Medvedev of Russia defeated fifth seed Stefanos Tsitsipas of Greece to reach the final. Now in the title match, he will face Spain's Rafael Nadal, who has won 20 Grand Slams.
Tsitsipas gave a tough fight to Medvedev. US Open champion Medvedev defeated Tsitsipas 7-6, 4-6, 6-4, 6-1 in the semi-final match played on Friday. Medvedev faced difficulties in the first two sets. After losing the first set 7-6, Tsitsipas came back to win the second set 6-4. However, after this Medvedev made a tremendous comeback and did not give the Greek player any chance in the next two sets. He won the third set 6-4 and the fourth set 6-1.
Medvedev also reached the final last year. This was the ninth match between Medvedev and Tsitsipas. Of this, seven matches have been won by Medvedev and two by Tsitsipas. Medvedev has won a total of 13 titles in his career. It has only one Grand Slam title. Last year also he reached the final of the Australian Open. He then lost to Djokovic 7-5, 6-2, 6-2. However, this time he will be facing Nadal.
Nadal one step away from record 21st Grand Slam Nadal beat seventh seed Matteo Barrettini of Italy 6-3, 6-2, 3-6, 6-3 in the semi-finals at the Road Laver Arena in Melbourne on Friday. This will be his sixth Australian Open final. This will be Nadal's 29th final by combining all four Grand Slams. He has won the Australian Open only once in 2009. If he wins this time, he will become the player to win the most Grand Slams. Currently, Nadal, Novak Djokovic and Roger Federer have won 20 Grand Slams each.
Medvedev is currently running in excellent form. Last year, he defeated world No. 1 Novak Djokovic 6-4, 6-4, 6-4 in the final of the US Open. He will have an upper hand over Nadal in the final. However, Nadal can take advantage of his experience. Nadal has entered the field for a record 21st Grand Slam. If we look at the statistics, so far there have been four matches between Medvedev and Nadal. In this, Nadal has won three and Medvedev has won one match. Both have come face to face in the finals of any tournament twice. Nadal defeated Medvedev 7-5, 6-3, 5-7, 4-6, 6-4 in the 2019 US Open final. At the same time, in the final of the ATP Masters 1000 Canada played in 2019 itself, Nadal won 6-3, 6-0 over Medvedev.
नोट:
अगर आपको यह खबर पसंद आई तो इसे शेयर करना न भूलें, देश-विदेश से जुड़ी ताजा अपडेट पाने के लिए कृपया The Lucknow Tribune के  

Facebook

 पेज को 

Like

व Twitter पर 

Follow

करना न भूलें...
------------------------- --------------------------------------------------- -------------------------------------------------------------------------------------------------------------------------------------------------