Rajeshwar Singh files nomination for upcoming state elections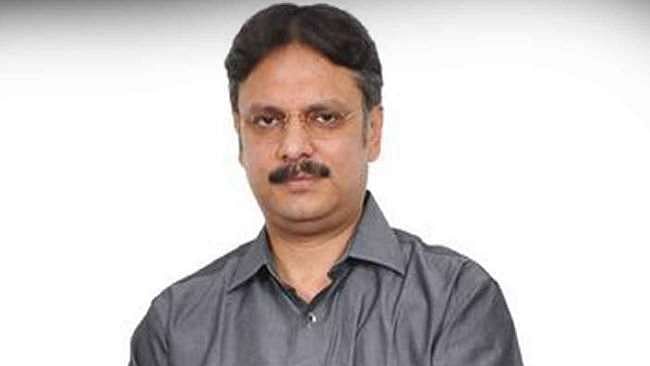 Lucknow: Rajeshwar Singh, who entered politics after taking voluntary retirement before remaining 11 years in police service, filed his nomination papers from Sarojininagar assembly constituency as a BJP candidate in Lucknow. Central Government Minister Kaushal Kishor, Deputy Chief Minister Dr Dinesh Sharma and Uttar Pradesh Minister Dr Mahendra Singh along with family members were present in his nomination.
After filing nomination papers in Lucknow Collectorate, Rajeshwar Singh said that keeping the ideals of social life paramount, we have to rise above the hateful politics of familyism, casteism and social demolition and raise the flag of the dignified politics of nation building and public service.
He said  he filed nomination papers as BJP candidate in Sarojini Nagar assembly constituency along with Deputy Chief Minister Dr Dinesh Sharma, Union Minister Kaushal Kishor and Yogi Adityanath government's cabinet minister Mahendra Singh. They pid their obeisance to Hanuman ji, Durga Maa and Ganesh ji at Hanuman Setu Temple, the center of reverence and took blessings for filing nominations.
Earlier, Rajeshwar Singh had a courtesy call on CM Yogi Adityanath. Bharatiya Janata Party has nominated Rajeshwar Singh, who was Joint Director in Enforcement Directorate, from Sarojininagar Assembly Constituency of Lucknow. Rajeshwar Singh reached Agra in the night after bid farewell to his department in New Delhi on Tuesday. His mother is currently residing in Agra. Rajeshwar Singh took his mother's blessings on Wednesday morning. Rajeshwar Singh, who reached Agra with his elder brother, proceeded towards Sarojininagar in Karmakshetra Lucknow with the blessings of his mother. BJP has fielded Rajeshwar Singh from Sarojininagar seat in place of Swati Singh. After reaching Lucknow, Rajeshwar Singh first met Minister Swati Singh on Wednesday. Swati Singh congratulated Rajeshwar Singh. Rajeshwar Singh said that together we will get the development of Sarojininagar assembly constituency done. Rajeshwar Singh's wife Laxmi Singh is posted as IG Zone in Lucknow.
Rajeshwar Singh, who was the Joint Director of Enforcement Directorate (ED) North Zone, has served the government for about 24 years. Rajeshwar Singh, a 1994 batch officer of the Provincial Police Service (PPS), was posted as CO Gomtinagar and CO Mahanagar in Lucknow. He also held important positions in Prayagraj. Rajeshwar had gone to the ED on deputation in 2009 and was later accommodated in the ED. After serving for almost ten years in Uttar Pradesh Police and 14 years in ED, he is now leaving his job and going to start his second innings.
IG Range, Lucknow Laxmi Singh is his wife. Brother-in-law Rajiv Krishna is ADG Agra Zone. Another brother-in-law YP Singh was IPS, he also took VRS. Rajeshwar Singh's father Late Ran Bahadur Singh was also an IPS officer. Rajeshwar did his PhD in Human Rights after doing B.Tech and LLB. His brother Rameshwar Singh is the Income Tax Commissioner. One sister Meenakshi is also the Income Tax Commissioner. His brother-in-law Rajiv Krishna is ADG Zone Agra. Rajeshwar Singh's elder sister Abha Singh is a Supreme Court lawyer. Abha Singh was in the Indian Postal Service and her husband YP Singh was an IPS officer of Maharashtra cadre. He also took VRS and practiced in Mumbai High Court.
नोट:
अगर आपको यह खबर पसंद आई तो इसे शेयर करना न भूलें, देश-विदेश से जुड़ी ताजा अपडेट पाने के लिए कृपया The Lucknow Tribune के  

Facebook

 पेज को 

Like

व Twitter पर 

Follow

करना न भूलें...
------------------------- --------------------------------------------------- -------------------------------------------------------------------------------------------------------------------------------------------------