Religious sentiments of all faiths need to be respected says Yogi Adityanath in Gorakhpur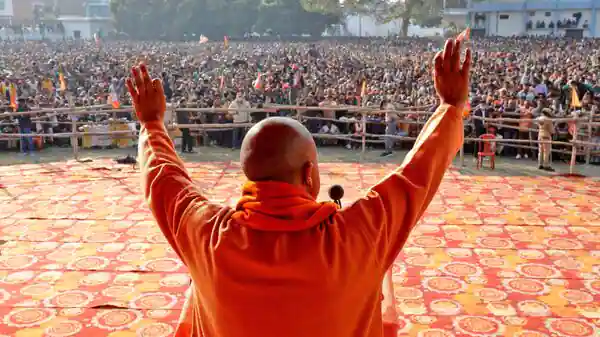 Gorakhpur: Yogi Adityanath reached Gorakhpur on Thursday afternoon to discharge the tradition that has been going on for several decades. He started Holika procession from Pandeyhata here. For the first time, a bulldozer also appeared in the procession.
Before the start of the procession, CM Yogi addressed the people. During this, CM Yogi advised people not to lose their senses in enthusiasm. He said that on the occasion of Holi, take care of everyone's feelings.
He said that there should be enthusiasm  on Holi. Along with this, the sentiments of every person have to be taken care of. If a person does not want to get colored in gulaal, then do not put it on him. Maybe they have some kind of problem. It could also be that someone is sick here. So everyone should be taken care of. Do not do any work that will cause trouble to anyone.
CM Yogi said that our festivals  only inspire to walk on the good path. A person who thinks only for himself can never be great. For greatness one has to follow the spirit of Vasudhaiva Kutumbakam. This sentiment is visible in PM Modi's Sabka Saath Sabka Vikas.
It is said that along with the program of Holika Dahan, Lord Krishna's incarnation will be in the form of Narasimha.
Yogi said that the people of Gorakhpur have fought a long battle against anarchy and mafia. There was a thought about UP, it has changed. Now UP is moving ahead with development. Every district of UP has to be taken forward.
Yogi also targeted the opposition. He said that where is casteism and regionalism in Holi. One has to rise above narrow thinking. We will move forward with big thinking, only then development will happen. Yogi said that the people here have started playing Holi from March 10 itself.
Yogi said that this election result is not only a political result, but this result has come to give respect to the faith, to give security to women, to give security to businessmen and to give prosperity to the people of the state. The BJP has got all the nine seats out of nine in Gorakhpur. This is the first time this has happened after independence. Out of 28 seats in Gorakhpur division, 27 seats have gone to BJP.
Yogi said that this election shows that truth always wins. Misleading propaganda was made against us. Personal comments made. Defying the limits, tried to cross the boundaries. The people of the state did not listen to his words and listening to the words of the central and state governments gave a thumping majority.
Yogi said that UP presented many models during Corona. We have succeeded in giving 30 crore doses in UP. Now even children between 12 and 14 years are being given the vaccine. The government also protects its citizens from epidemics and also saves them from starvation due to epidemics. Food was arranged for 15 crore poor. Earlier food grains were not available to the poor. The mafia was gone.
नोट:
अगर आपको यह खबर पसंद आई तो इसे शेयर करना न भूलें, देश-विदेश से जुड़ी ताजा अपडेट पाने के लिए कृपया The Lucknow Tribune के  

Facebook

 पेज को 

Like

व Twitter पर 

Follow

करना न भूलें...
------------------------- --------------------------------------------------- -------------------------------------------------------------------------------------------------------------------------------------------------