Rollback of Rs 2000 note gives Opposition Fresh Ammo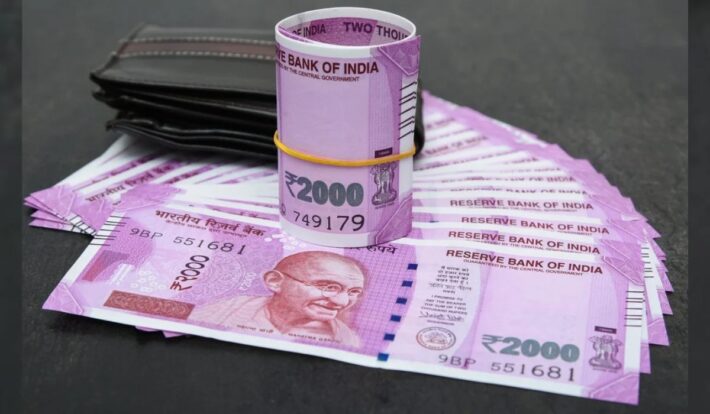 Arijit Bose
New Delhi: Taking a sudden decision, the RBI announced the withdrawal of Rs 2000 notes from circulation. Although RBI has said that these notes will be considered valid till 30 September. After this decision of RBI, politics also intensified. Along with this, many political reactions came in, in which the Modi government faced stiff opposition. On RBI's note rollback decision, Congress said that when the notes had to be banned then why did they bring them. Leaders of opposition parties, including the Congress, are attacking the Modi government, while BJP ministers and leaders are calling it the right decision at the right time. Along with this, BJP leaders listed out the benefits of this demonetisation. BJP is calling it another big action against black money.
 Why was the note brought?
Rajasthan Chief Minister Ashok Gehlot said that if the Rs 2,000 note had to be banned then why was it introduced at all. If the 2000 note was not already in circulation, then one should also answer on this. He said that the government should also tell how the two thousand rupee notes disappeared from the market.
Gehlot accused the Modi government that they have already made mistakes. Now again they have made a mistake, earlier demonetisation was done without giving time and now Rs 2000 note has also been banned.
Congress leader Rajeev Shukla said that such decisions weaken the economy instead of strengthening it. Congress leader Gaurav Ballabh said that BJP had brought 2000 note in the market without a solid plan, now it has to be reversed.
NCP leader Jitendra Awhad said that the Lok Sabha elections are round the corner, that's why the ban on 2000 rupee notes has been brought into force. SP leader Ameek Jamei tauntingly asked the question that 2000 notes were banned, did terrorism and corruption come to an end?
 Such decisions are taken in the national interest
Describing the demonetisation decision as correct, BJP leader Sushil Modi said that this is the second surgical strike on black money. Uttarakhand CM Pushkar Singh Dhami said that no one needs to worry. Such decisions are taken in the national interest.
After demonetisation in 2016, the government started printing Rs 2000 notes. The government printed 2000 notes till 2019. But these 2000 notes kept disappearing from the market. Meanwhile, fake 2000 notes were also caught.
The Reserve Bank of India (RBI)  announced the withdrawal of Rs 2000 note from circulation. RBI has instructed banks to stop issuing Rs 2000 notes with immediate effect. However, Rs 2000 notes will continue to be legal tender. According to the information, RBI took this decision according to the clean note policy.
2000 notes introduced in 2016
Notably the Center had demonetized 500 and 1000 notes. However, later 500 notes were issued. Apart from 500, 200, 100, 50 and 10, 20 notes are now in circulation in the market.
6,849 crore notes printed since 2016
According to the report of the Reserve Bank of India, Rs 1.3 lakh crore black money came out after the demonetisation of 2016. At the same time RBI had issued 2000 rupee notes. 500 and 2000 notes worth Rs 6,849 crore have been printed since 2016.
 2000 notes were printed for the last time in 2018-19. According to statistics, for the first time in 2016-17, 350 crore notes of 2000 were printed. In the second year i.e. 2017-18, only 15.10 crore 2000 rupee notes were printed. Last time in 2018-19, 4.70 crore notes of two 2000 rupees were printed.
Vanishing Act
In response to a question in Parliament in December 2022, the Central Government had told that the circulation of 2000 notes is less. 102 crore notes of 2000 rupees were made useless within six years. After this, the remaining notes should have been in circulation. In 2021-22, 214.2 crore notes of 2000 were in circulation. The value of 54 crore worth notes is missing. Rs 2000 notes is around Rs 1.08 lakh. With this decision of the government, these notes can now be easily detected.
नोट:
अगर आपको यह खबर पसंद आई तो इसे शेयर करना न भूलें, देश-विदेश से जुड़ी ताजा अपडेट पाने के लिए कृपया The Lucknow Tribune के  

Facebook

 पेज को 

Like

व Twitter पर 

Follow

करना न भूलें...
-------------------------