Sachin Pilot scripting a new tale in Rajasthan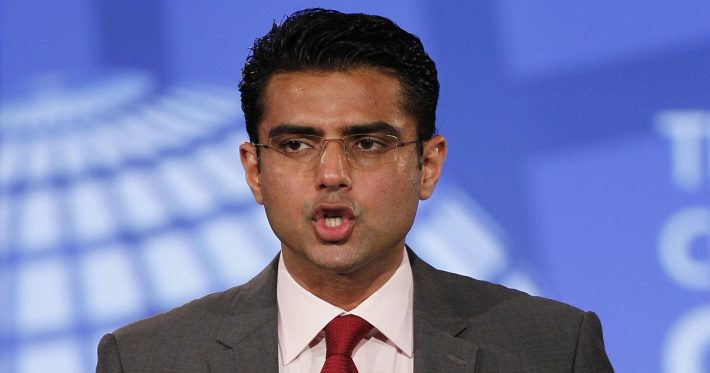 Jaipur: New political equations have emerged in eastern Rajasthan due to the jugalbandi of Pilot Camp Minister Murari Lal Meena and BJP MP Kirori Lal Meena. Both the leaders, who were once staunch opponents of each other, are seen together in public forums.
It is believed that Minister Murari Lal can spoil the game of Congress-BJP by playing the bets of making Sachin Pilot and Kirori on a pedestal. Experts say that Pilot may form a new party before the assembly elections. Dausa MLA and Gehlot government minister Murarilal is writing the script for the new party.
Experts say that the political equation of Congress-BJP may worsen if Sachin Pilot gets the support of strong leader Kirodi Lal. Political experts are considering this as a big strategy for the pilot camp. The tussle between Gehlot and Pilot is well known.
Kirori ignored in BJP
The state BJP unit has kept a distance from Kirori. Kirori Lal's wife Golma Devi's ticket was cut in the last Lok Sabha elections. Since then, senior BJP leaders had made a distance. Kirorilal agitates on different issues. But the distance between the BJP leaders was maintained. Minister Murari Lal is supporting Kirori on every issue. In the last assembly elections, the nephew of Kirori Lal had to face defeat in Mahuva assembly seat. Golma Devi, wife of Kirori of Sapotra, was defeated by the minister Ramesh Meena.
The affiliation of Jaskaur Meena, the BJP MP from Dausa, is not hidden from anyone. Kirori's wife Golma Devi did not get ticket in the Lok Sabha elections. Kirori distanced himself from the election campaign and supported the minister Murari Lal's wife Savita Meena behind the scenes.
Signs of reconciliation 
Recently, at the Congress worker's camp in Dausa district, Gehlot's health minister Parsadi Lal Meena had praised the former union minister late Rajesh Pilot with open voice. Political meaning is being extracted from the praise of Parsadi Lal, who was very close to Rajesh Pilot. Parsadi's statement is being treated as a reconciliation with Pilot. Sachin Pilot had cut Parsadi's ticket while being the state president. Parsadi won the election by contesting as an independent.
Congress got a bumper victory in the assembly elections
In the last assembly elections, East Rajasthan has dominated. In eastern Rajasthan, the Congress remained strong even when it was in opposition. Alwar, Bharatpur, Dholpur, Karauli, Sawai Madhopur, Dausa and Jaipur districts are part of eastern Rajasthan. In the last assembly elections, the Congress had won 37 out of 54 seats. Kirori Lal knows that people definitely like him but do not vote for him. How important is the East Rajasthan in the state's politics that it can be estimated that 14 out of 30 ministers in the Gehlot cabinet come from East Rajasthan. East Rajasthan dominates the Gehlot cabinet.
नोट:
अगर आपको यह खबर पसंद आई तो इसे शेयर करना न भूलें, देश-विदेश से जुड़ी ताजा अपडेट पाने के लिए कृपया The Lucknow Tribune के  

Facebook

 पेज को 

Like

व Twitter पर 

Follow

करना न भूलें...
------------------------- --------------------------------------------------- -------------------------------------------------------------------------------------------------------------------------------------------------