Sathwaro initiative empowering first generation entrepreneurs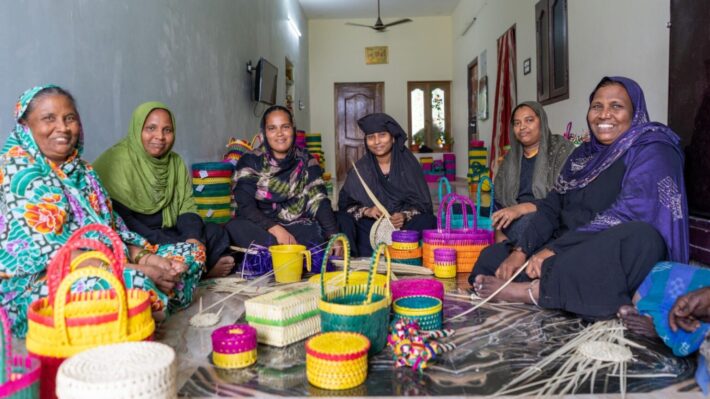 Chennai: Adani Foundation's Sathwaro initiative is working towards preserving the arts and craftsmanship of India while helping uplift artisans. "We were almost invisible until our work started speaking for us, or In other words, till then we had no voice." These are the words of Muslim women of the Bismi group from Jamilabad in Kottaikuppam Panchayat of Ponneri taluka in Tamil Nadu.
Jamilabad is a small village in this southern state and is home to a Muslim fishing community. The main occupation of the residents of this village is fishing. This community faces difficulties in the months when fishing is banned, as they have no other means or sources of income available to them. The women, who rarely step out of their homes, make small objects from palm leaves in their spare time, earning them barely any money.
However, after Adani Foundation started work in this area, the winds of change have started blowing. The Foundation team recognized the talent of Bismi women and helped them form a Self Help Group (SHG) in July 2022. Soon after, the skill training of the 14-member group began. The Foundation also provided material support worth Rs 70,000 under the Livelihood Promotion Project. And within no time the nimble fingers started making beautiful artefacts from palm leaves.
"We couldn't believe our eyes that we could make things like shopping bags, lunch and chocolate boxes, mats, trays, etc. from the leaves available in sufficient quantity in our coastal village," says Fatima. "Between July and September 2023, we earned Rs 1,20,000," he said enthusiastically. A new confidence has served to empower Bismi women, who are happy to be able to contribute to their family income. They are among the first to start their own enterprises in their village.
Adani Foundation, through its Saathwaro (Together) initiative, is working towards preserving the rich heritage of India's arts and crafts while upliftment of artisans in line with the Sustainable Development Goals (SDGs). It helps the artisans in design development so that they can produce as per the market demand. The initiative also provides assistance to artisans in building market linkages to help them sell their products.
At Vizhinjam, Abdul Rehman faced many challenges when his products were rejected as they did not meet the market standards. After leaving school, he was proud of the coconut shell handicraft business he had built himself. As part of their products, they make around 40 items of kitchenware, tableware, garden and decoration items, which are expected to be sold at good prices in the market. But due to intense competition in the market, the shine of their products soon started fading. He then started participating in exhibitions organized by the foundation, which had started working in the Vizhinjam Port area. At the exhibitions, he learned the importance of marketing and quality control, which helped him maintain the accuracy of designs and quality of craft items at par with export standards. The Sathwaro Exhibition held at the Port premises for a high-level delegation opened new channels, giving them new energy to produce high quality coconut shell items.
Rahman, who first lost his father early in life, and then met with a freak accident while playing football that left one of his limbs deformed, continued to face challenges head on. This first-generation entrepreneur found inspiration very early in life and the Sathwaro initiative gave a new direction to his passion.
Soga Mary, a resident of Muthukuru village in Nellore, is a class XI pass with general nursing and midwifery (GNM) certificate. Her husband is an auto-rickshaw driver and is the sole earning member of the family including their children and in-laws. Life was difficult as her every desire to work and help her husband run the household was met with a cold response from her in-laws. They never wanted him to go out and work.
So, he decided to take charge of his life and start something of his own. Adani Foundation had started work in the Krishnapatnam Port area and when word reached him that they were supporting people like him to start their own ventures, he contacted them. "I knew how to make bamboo crafts and wanted to start my own venture from home," says Mary. However, she did not have the money to buy bamboo rods, wire for handles and other tools needed to make the objects at which she was an expert.
The Foundation helped Mary provide the necessary materials in bulk to start a micro-enterprise. Mary, who has made a respectable life for herself, says, "I was overjoyed when I got my first payment. Today, I earn Rs 6,000 per month by selling handicraft items like bamboo baskets, light covers, trays, flower baskets, etc. This has given me a lot of confidence as I look forward to contributing to household expenses and saving a good amount for my future every month.
नोट:
अगर आपको यह खबर पसंद आई तो इसे शेयर करना न भूलें, देश-विदेश से जुड़ी ताजा अपडेट पाने के लिए कृपया The Lucknow Tribune के  

Facebook

 पेज को 

Like

व Twitter पर 

Follow

करना न भूलें...
-------------------------