Sea of revellers converge on Ayodhya streets to mark the return of Lord Rama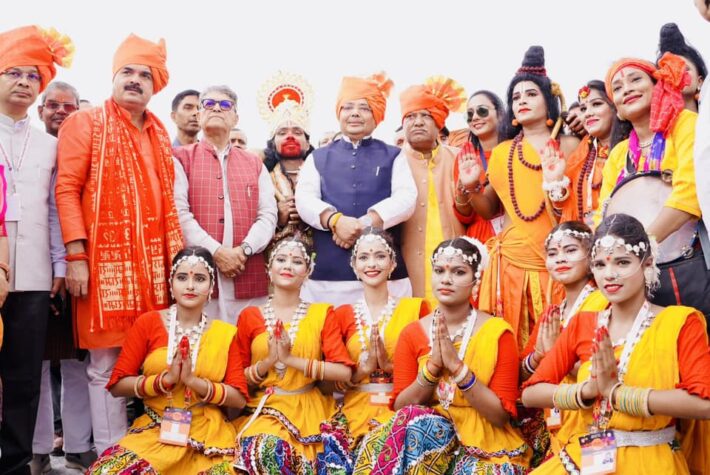 Ayodhya: The seventh Deepotsav of Yogi government was  celebrated in the city of Lord Shri Ram. On Saturday morning, a procession of 18 grand and divine tableaux based on the character of Lord Ram was taken out with much fanfare.
Jaiveer Singh, Tourism and Culture Minister in the Yogi government, sent them off after showing them the saffron flag. This procession of tableaux based on the life of Shri Ram was taken out from Udaya Square in Ayodhya to Ram Katha Park.
During this, artists from different states of the country made a grand manifestation of their faith through a procession. Streets to see the procession of all the major folk dances of India – Tableaux and processions made the atmosphere joyful before the seventh Deepotsav of Yogi government.
Tourism Minister flagged off the tableaux by showing the saffron flag.
Artists from different states of the country took out a procession and made a grand display of faith.
But the crowd of people gathered. Aarti of tableaux was also performed at various places. Special gratitude was also expressed to Chief Minister Yogi Adityanath on behalf of the priestly community of Ayodhya.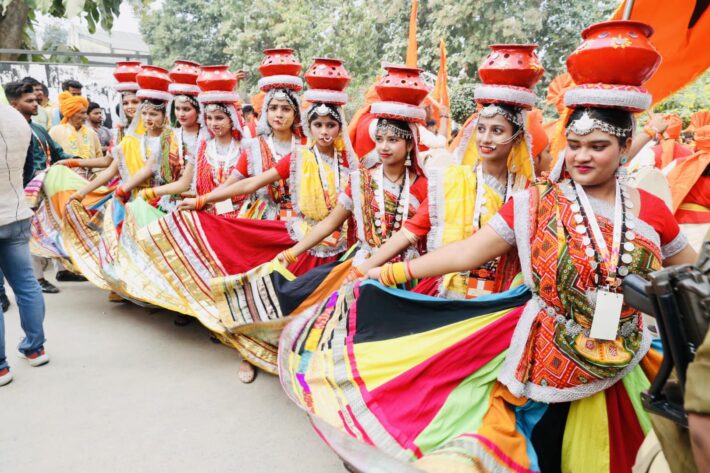 *Good fortune not only for Ayodhya but for entire India*
On this occasion, the Tourism and Culture Minister said that a program of Deepotsav is going to be held in Ram Nagari. Once again a new record will be created for lighting the largest number of lamps in the world. In this festival of lights, Chief Minister Yogi Adityanath will perform the coronation of Lord Ram. The most important thing will be that during the coronation of Lord Shri Ram, diplomats from 50 important countries of the world will also be present. He told that this festival of lights reminds everyone of Tretayug, when Lord Shri Ram returned to Ayodhya after conquering Lanka. The way the people of Ayodhya welcomed him then. The same is visible on the roads here today. This Ayodhya is the good fortune of entire India. This message from Indian Sanatan culture will go to the entire world stage.
*These tableaus were taken out*
The tableaux taken out in Ayodhya have been made by the Tourism Department and Information Department. In these tableaux of the Information Department, Putreshthi Yagya and security for all, fear-free society, Gurukul education and children's rights, basic education, arrangements being made by the government for Ram Sita marriage and marriage of daughters, Ahilya upliftment and Mission Shakti, women safety, women Respect, women's independence, facilities of 1090 and 1076, Panchvati/Forest and Environment, Rameshwaram Setu and construction of bridges in Uttar Pradesh, Pushpak Viman and Science and Technology, better air connectivity, Kevat context and social welfare, Ram Darbar and better law and order, There are tableaus of Shabari-Ram Milap and women's welfare, Lanka Dahan and campaign against criminals and land mafia.
Similarly, among the tableaux of the Tourism Department, seven tableaux based on the seven chapters of Bal Kand, Ayodhya Kand, Aranya Kand, Kishkindha Kand, Sundar Kand, Lanka Kand and Uttar Kand and one tableau were brought out on the theme of Ram Rath.
नोट:
अगर आपको यह खबर पसंद आई तो इसे शेयर करना न भूलें, देश-विदेश से जुड़ी ताजा अपडेट पाने के लिए कृपया The Lucknow Tribune के  

Facebook

 पेज को 

Like

व Twitter पर 

Follow

करना न भूलें...
-------------------------