Seth M.R. Jaipuria School, Gomti Nagar experiences the spiritual high in a 5 day retreat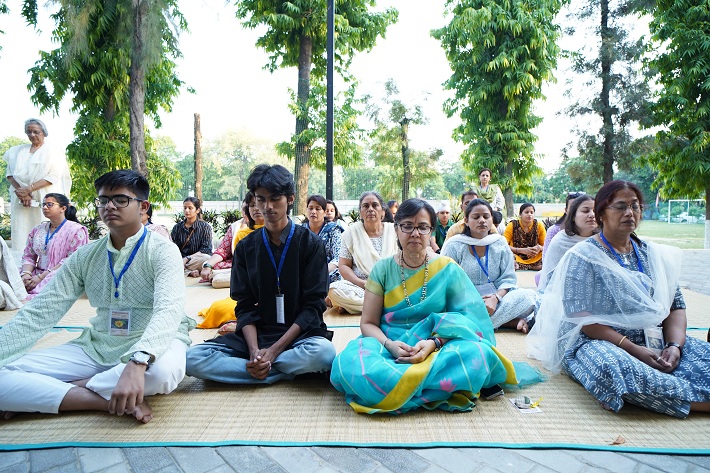 Lucknow: The 6th Edition of the annual Spiritual Retreat, the idea for which was conceived by Vice Chairperson,  Anjali Jaipuria, was organised in an offline capacity  at Seth M.R. Jaipuria School, Gomti Nagar – School of Conscious Transformation.
This year's explorative 5-day journey was undertaken by 72 students with 11 speakers through 13 intellectually stimulating talks, with discussions ranging from Love, Spirituality and Perseverance, to Sanskrit and the Genius of India.
Each year, the Spiritual Retreat is conducted with the objective to inspire the attendees to transform consciously, work harmoniously and become better versions of themselves. Through conversations and interactions, children, parents and teachers, seek answers to the colossal questions in the voyage of life and emerge successfully with a sense of direction and purpose.
The retreat witnessed every day beginning with yoga and sports for the attendees, energising their Physical being, along with each meal being consumed with consciousness. Their daily schedule incorporated reflections, silent assimilations and meditation, besides preparations for their final presentations. Another addition to this year was chanting and explanation of shlokas on Offering, from the Bhagavad Gita by six students of the school, along with the Vice Chairperson,  Anjali Jaipuria.
The speakers of this year's sessions were:
 Anjali Jaipuria – Vice-Chairperson, Integral Education Society
 Shivakumar – Director, Sri Aurobindo Founder for Integral Education & Research (SAFIER), Sri Aurobindo Society
Krinali Nayak – 11 E, Seth M.R. Jaipuria School, Gomti Nagar, Lucknow
Nandini Bansal – 11, Navsrijan, Gomti Nagar, Lucknow
Saransh Mishra – 11 E, Seth M.R. Jaipuria School, Gomti Nagar, Lucknow
Ruchi Bansal – 12 E, Seth M.R. Jaipuria School, Gomti Nagar, Lucknow
Dr. (Mrs.) Vinod Solanki – Retd. HOD, Dept. of English, Deen Dayal Upadhyaya University, Gorakhpur
Sri Sraddhalu Ranade – Scientist, Educationist & Scholar, Sri Aurobindo Ashram, Pondicherry
Shashwat Vikram Singh – 10 A, Seth M.R. Jaipuria School, Gomti Nagar, Lucknow
 Atul Satya Kaushik – Playwright, Theatre Director, Inspirational Speaker
Sqn. Ldr. Toolika Rani – Retd. Air Force Officer, Mountaineer, Motivational Speaker, Writer, Research Scholar
Day 1 was initiated with  Anjali Jaipuria's discussion on the 'Aim of Spiritual Retreat', wherein she enabled everyone in attendance to recognise who they essentially are – Physical, Vital, Mental, Psychic and Spiritual Beings. Giving mottos for self-perfection, she carved out the path towards refining one's sensibilities through self assessments. Her talk acted as a stepping stone for the participants in discovering their potentialities and evolving as transformative beings, sincere in their decisions to ascend.
The second talk of the day by Shivakumar on 'Doing One's Best the Integral Way' was a reflection on how one must be in a state of constant progression while being true to themselves. With complete concentration and stillness, one can identify the authentic self, which is the essence of the best thoughts, emotions and actions – the Psychic Being. Being in this state of intuition, one becomes an instrument through which everything is expressed.
Day 2 commenced with the talk on 'भगवद्गीता– प्रथम अध्याय की शिक्षा' by Krinali Nayak wherein she elaborated on Arjuna's momentous question to Krishna about his actions being as sinless and blameless as the Divine's actions. He learns how this can be achieved by performing as an egoless, desireless instrument of the Divine Will. She clarified how essential it is to understand the present situation in order to set the right path to the final and true destination, through her explanations about the power of choices one makes.
This was followed by Nandini Bansal speaking about the true nature of 'प्रेम'. She shed light on the difference between selfish attachment and selfless love through vivid examples. By going into the depths, one finds the Inner Self, which always seeks calm and happiness. That endeavour which liberates us, through which we reach higher levels of our own self, is true love.
Ruchi Bansal discussed 'अध्यात्म – क्या, आवश्यक्ता और सही उम्र', urging the participants to introspect and commit to the right path to reach the depths of knowledge. A complete inquiry of the self, and the right choices will ensure a pure mind and a healthy soul. She also elucidated how the Guru acts as inspiration for one to move closer to the Inner Guru – the Soul.
'संस्कृत सबके लिए आवश्यक क्यों' was a detailed talk given by Saransh Mishra. Describing how all the content of our consciousness is words, he brought to the forefront how Sanskrit is a language of philosophy, history and culture. Giving various etymological examples, he put across the point of the untranslatability of Sanskrit to his listeners lucidly. In an effort to make life beautiful and transform it, one seeks spirituality and Sanskrit is that instrument through which one can effectuate that.
'Man is a Transitional Being, He is not final' These words by Sri Aurobindo were elaborated upon by Dr. Vinod Solanki, who spoke about the process of evolution in humans as a choice. With no resistance to change, guidance and conscious cooperation, one aspires to become aware of the Psychic being, and progress on the path of Divine Transformation. This refinement and ascension occurs with full consciousness, when the flame from within enables one to bloom and blossom.
On Day 3, Sraddhalu Ranade revealed to his listeners the 'Genius of India' through historical and factual information. He gave a brief glimpse into India's achievements from Ayurveda to Astronomy, from Architecture to Warfare. Although the longest surviving civilisation and the 'Land of Knowledge', he discussed how the Indian mind has been colonised. So that the world civilisation does not collapse, he added how India needs to undertake the route to redemption by embracing the past, its diversity and Dharma. The fulfilment of this mission is entirely dependent on the awakening and realisation of spirituality.
Expounding upon the 'Scientific Perspectives of Sanatan Dharma', Shashwat Vikram Singh's talk was an eye-opener for most. With substantial evidence through research, he demonstrated the science behind the designing of specific historical temples across India. He also explored the intricate details of Nakshatra, Astrology and ancient Indian discoveries, with suitable answers to the pondering minds in the audience.
 Atul Satya Kaushik in the 'Interpretations of Saket – Poem by Maithili Sharan Gupt', enraptured the attendees on Days 3 and 4, helping them analyse the difficult questions left out by history. He carefully discussed the Ramayana through the poet's imagination, giving detailed visuals through this layered text's twelve cantos. Focusing on the grief and the psychology of Urmila, Lakshmana's wife, he talked extensively about Love and Separation, Dharma and Hope.
With her talk on 'Perseverance', Sqn. Ldr. Toolika Rani managed to influence every individual with her lifelong learnings through her expeditions. She encouraged us to celebrate our attempts and accept our failures, but not as final. Her definition of success as a continuous utilisation of one's potential by embracing opportunities, struck a chord with all the participants. She advised children to challenge their limits, aim for excellence and be in sync with their mind, body and soul.
Day 4 concluded with  Anjali Jaipuria's talk 'On Love' in the light of Sri Aurobindo and the Mother. A fundamental principle of the universe, she unravelled the four stages of Love, culminating in a state of perpetual joy where we cannot but love. She stated that the Divine is Love, which unifies and nurtures us, vibrating differently in each one. Within us lies the potential to become as Perfect as the Divine, for we are essentially God's work in progress. Only when we learn to receive and open ourselves to it, will we be able to experience the Divine Love around us.
The Spiritual Retreat came to a conclusion on 17th May, with the students' respective group presentations, replete with dance and drama performances, self-composed poetry, and observations and reflections on their experiences. Witnessing their acts on stage was a testament to the successful completion of this year's retreat, with parents applauding and appreciating this joint venture. The vision of our Founders is finally coming to light as the seeds of Conscious Transformation gradually sprout in our young Jaipurians.
नोट:
अगर आपको यह खबर पसंद आई तो इसे शेयर करना न भूलें, देश-विदेश से जुड़ी ताजा अपडेट पाने के लिए कृपया The Lucknow Tribune के  

Facebook

 पेज को 

Like

व Twitter पर 

Follow

करना न भूलें...
-------------------------