Shiv Bhakts soak in Revelry on Mahashivratri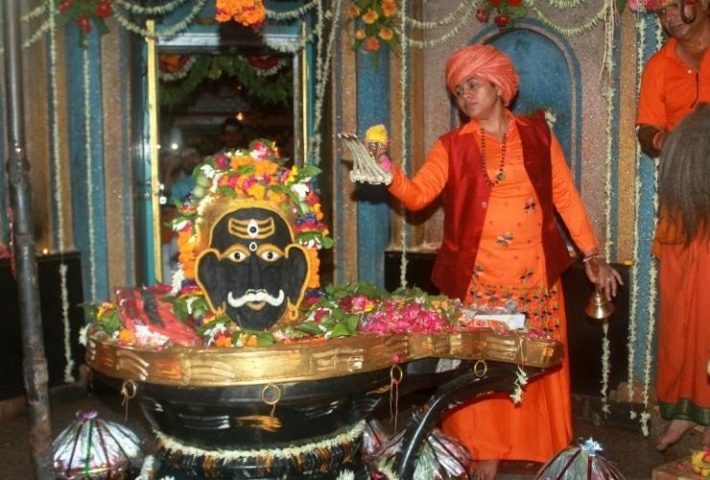 Lucknow: The festival of Mahashivratri was celebrated with full pomp and gusto across Uttar Pradesh. On this auspicious occasion, all temples reverberated with chants of Bum Bhole. Kanwariyas started offering Kanwar from midnight, which continued through the day. There was a queue of Kanwariyas at Shiva temples since midnight.
When people started congregating in the Kashi Vishwanath temple complex from morning, there was no end to the crowd as the day progressed. Special decoration of Baba Vishwanath was performed in the sanctum sanctorum. Baba's tableau was adorned with various makeup items, so the faithful also sought blessings after having darshan of Baba. The believers who came from far and wide reached Baba's court from morning, bowed their heads and also visited the temple premises with Baba's prasad
In Shiv Nagari Kashi, the ocean of faith rose in such a way that from Ganga Ghat to Baba Darbar, it was as if lakhs of people were constantly crawling on the streets. At the same time, for the first time on Shivratri, the Ganges and Baba Darbar became one.
In Prayagraj too, there was a heavenly atmosphere. The Magh Mela, a symbol of chanting, penance, sacrifice and penance, is going on from Makar Sankranti on the Sangam ghat. Similar scenes were seen in Meerut and Pura Mahadev temple. A queue of devotees were also seen in Muzaffarnagar, Ayodhya and Lucknow. The Jalabhishek of Mankameshwar Mahadev was performed from 21 Mangal Kalash. Buddhaeshwar Mahadev Temple , including Baba Anandeshwar Temple and Jageshwar Mahadev Temple in Kanpur.
नोट:
अगर आपको यह खबर पसंद आई तो इसे शेयर करना न भूलें, देश-विदेश से जुड़ी ताजा अपडेट पाने के लिए कृपया The Lucknow Tribune के  

Facebook

 पेज को 

Like

व Twitter पर 

Follow

करना न भूलें...
------------------------- --------------------------------------------------- -------------------------------------------------------------------------------------------------------------------------------------------------