Shivani Centre at IIT Kanpur organizes "Katha – The Art of Story Writing"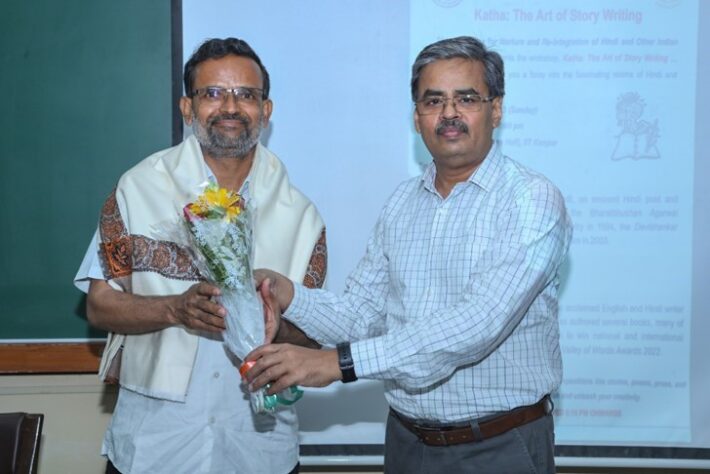 Kanpur: The Shivani Centre for the Nurture & Re-Integration of Hindi and Other Indian Languages at IIT Kanpur hosted "Katha – The Art of Story Writing" on Sunday, May 21, 2023, at IIT Kanpur. The event aimed to inspire aspiring writers and foster creative writing in Hindi and English literature.
The workshop commenced with a warm welcome note from Prof. Kantesh Balani, Shivani Centre Coordinator, and Dean, Resources and Alumni, IIT Kanpur; followed by an inauguration by Prof. Braj Bhushan, the Dean of Administration at IIT Kanpur. Prof. Braj Bhushan emphasized the significance of creative writing as a powerful means to express thoughts, feelings, and ideas in a unique and personal way.
During the event, Ms. Mamta Nainy, a renowned English and Hindi writer and translator, delivered an enlightening talk on the "Wonders of Literature and Creative Writing." Her session provided the audience with valuable insights into the contemporary relevance of English and Hindi literature. Subsequently, Dr. Pankaj Chaturvedi, an eminent Hindi poet and critic, delivered a captivating presentation on "Creative Writing in Hindi Literature," engaging the audience with the fascinating realm of Hindi literature.
The event concluded with closing remarks and a vote of appreciation from Prof. Ark Verma on behalf of the Shivani Centre. The occasion offered attendees a remarkable opportunity to delve into the enchanting realm of writing, allowing them to unleash their creativity through the creation of stories, poems, prose, and various other genres of literature in both Hindi and English.
Indian Institute of Technology (IIT) Kanpur was established on 2nd November 1959 by an Act of Parliament. The institute has a sprawling campus spread over 1055 acres with large pool of academic and research resources spanning across 19 departments, 22 centres, and 3 Interdisciplinary programs in engineering, science, design, humanities, and management disciplines with 540 full-time faculty members and approximately 9000 students. In addition to formal undergraduate and postgraduate courses, the institute has been active in research and development in areas of value to both industry and government.
नोट:
अगर आपको यह खबर पसंद आई तो इसे शेयर करना न भूलें, देश-विदेश से जुड़ी ताजा अपडेट पाने के लिए कृपया The Lucknow Tribune के  

Facebook

 पेज को 

Like

व Twitter पर 

Follow

करना न भूलें...
-------------------------