Shrinking space for Hazara Marigold flowers in the market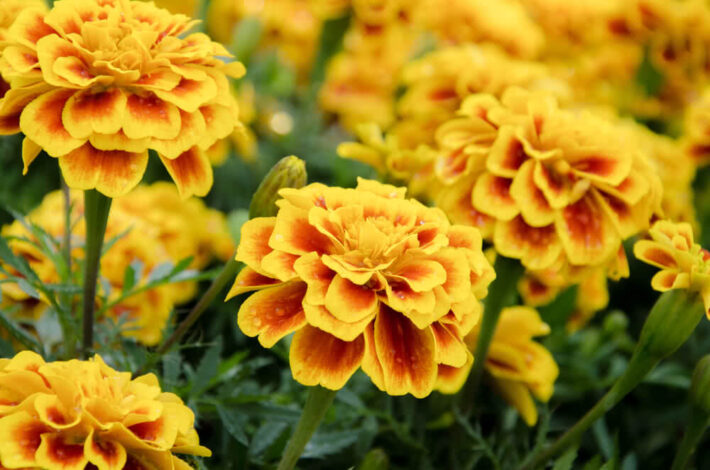 Lucknow: Now there is demand for marigold flowers in the market throughout the year. Be it a festival, a shop, a house or a private or government establishment, flowers are needed for decoration everywhere. People buy a lot of flowers during any special festival like marriage ceremony or during kirtan-bhajan and puja in the temple. This is the reason why the consumption of marigold flowers is increasing year after year, that is why today the flower business is progressing but in these many years, Hazara flowers have started decreasing from the market. Shopkeepers are also selling ordinary marigold by calling it Hazara.
All over the city, fake marigold flowers are being sold in bundles in the name of Hazara. The most commonly purchased flower plant these days is Hazara Marigold.
This fraud has been going on for many years. Hazara variety of marigold, which emits many colors and fragrance, is harvested throughout the year. The special thing is that as soon as one crop ends, seeds for another crop are sown. If there is no shortage of water in this farming, then the costs are quite low.
The sellers themselves say that the income is considerable. The plant which is planted becomes ready within three months and starts radiating fragrance. However, the plants being sold are actually said to be Hazara marigold flowers, but even the seller does not know to which species they belong.
In Lucknow, no institute has yet given improved marigold seeds to the common people. Research has been done on this, but the plants and seeds are with the institutions only.
Flower exhibition is organized every year by NBRI, but Hazara marigold seeds or plants were not sold.
In such a situation, treated seeds or authentic seeds do not reach the common man. Nursery owners or shopkeepers are taking advantage of this. Shopkeepers have no shortage of marigold flowers. A sapling is being sold for two rupees, but it is not guaranteed.
The shopkeeper who had sold marigold in the name of Hazara last year, is still selling plants by setting up shops at different places. Many people had bought plants named Hazara from him, but they were ordinary marigold plants.
Santosh Kumar, a flower researcher from Lucknow, says that good seeds are available from online companies. Seeds can be purchased from them. Hazara marigold flowers can also be purchased from some private institutions when they grow on them.
नोट:
अगर आपको यह खबर पसंद आई तो इसे शेयर करना न भूलें, देश-विदेश से जुड़ी ताजा अपडेट पाने के लिए कृपया The Lucknow Tribune के  

Facebook

 पेज को 

Like

व Twitter पर 

Follow

करना न भूलें...
-------------------------