SOTI expands its NextGen campus recruitment drive to colleges in Lucknow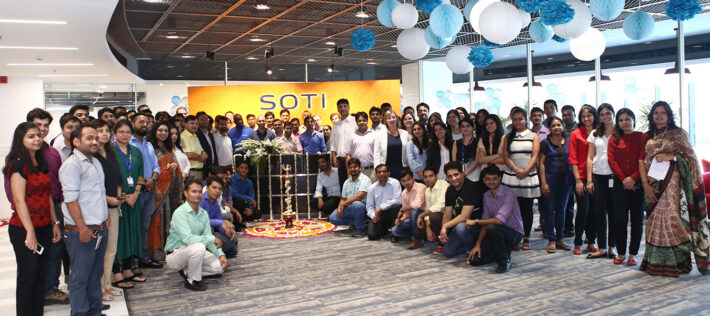 • SOTI Next Gen Campus Recruitment Drive 2023 is part of SOTI's long term vision to expand its presence in India
• As part of the company's expansion in North India, SOTI will conduct college roadshows in select colleges in Lucknow from August 21 to 23, 2023
• Campus recruitment drive invites talented students of B.E, B.Tech, M.E, M.Tech, M.Sc and MCA for promising career in Technology
Lucknow: SOTI, the world's most trusted provider of mobile management solutions, is gearing up for its 2023 NextGen Campus Recruitment Drive in India. This will provide full-time employment opportunities to freshers (fresh graduates and post graduates). As part of the campus recruitment drive, SOTI will conduct grassroots college roadshows in Lucknow from August 21 to August 23, 2023. Students from Lucknow region are expected to participate in this recruitment drive, which will have a competitive live coding test on 1st September.
Through these college roadshows, SOTI aims to give students a glimpse into the company and how its technology is impacting the world. Students will have the opportunity to learn about Soti's cultureᛨ, career advancement opportunities and upskilling, and the recruitment process. SOTI Next Gen Roadshow 2023 is part of SOTI's long-term vision to enhance its presence in India and develop a strong base of technology talent in the country.
Manish Garg, VP of India Development at Soti, said, "'Soti's journey has been one of rapid growth. We are continuously expanding in India and our focus is on identifying and hiring exceptional talent. The Lucknow region is an important step in this endeavor and we see it as an investment in our future. With our running of college roadshows in Lucknow, we will be connecting with the best and brightest students of the region. Through these roadshows, we are giving young professionals a unique opportunity to enhance their skills, contribute to important projects and play a significant role in shaping Soti's continued growth."
This year will be the fifth Next Gen Roadshow organized by Soti in India, the first show being held in Kochi in 2019. Last year the company hosted a completely virtual event where 40000 students registered for the exam and 40% of them were females. Mr. Garg further added, "We are excited to announce the expansion of Next Gen Roadshow to the vibrant city of Lucknow. This is an important investment in our future as we continue to tap the immense potential of the North Indian market. At Soti, we believe in nurturing and leveraging talent and this year's roadshow is a testimony to that commitment."
Students from various streams such as B.E, B.Tech, M.E, M.Tech, M.Sc and MCA can register to participate. SOTI offers attractive salary package to freshers to start their career in technology. More information is available at soti.net/india.
नोट:
अगर आपको यह खबर पसंद आई तो इसे शेयर करना न भूलें, देश-विदेश से जुड़ी ताजा अपडेट पाने के लिए कृपया The Lucknow Tribune के  

Facebook

 पेज को 

Like

व Twitter पर 

Follow

करना न भूलें...
-------------------------