Startups leading the next generation Biz revolution get honoured at The Lucknow Tribune's Excellence Awards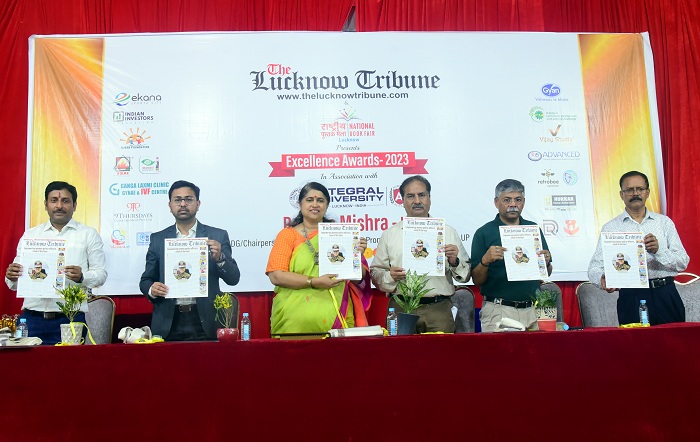 Lucknow: The Lucknow Tribune, Lucknow's Number 1 English weekly in association with Integral University recognized the contribution of health and agri startups along with people of other categories who have made a mark in public life.  As part of this glittering award ceremony, The Lucknow Tribune acknowledged efforts of these startups by gifting the awardees with  a certificate and Memento. Gracing the occasion as Chief Guest was Renuka Mishra, DG / Chairperson UP Police Recruitment & Promotion Board / DG Training UP.  Special guests for the event were – Pravin Kumar Dwivedi, Additional Director, Software Technology Parks of India., RK Sharan, President, UP State Council, Krishi Udyami Krishak Vikas Chamber, Syed M Fauzan Akhtar of Integral University  and Manoj Singh Chandel, Convenor of National Book Fair.
The event has been organized in association with Integral University, Ekana Sportz City, Meghdoot Gramodyog Sewa Sansthan, Indian Industries Federation, FSAI U.P. Chapter, Kiran Foundation, 9Thursdays Entertainment Pvt. Ltd. and Krishi Udyami Krishak Vikas Chamber.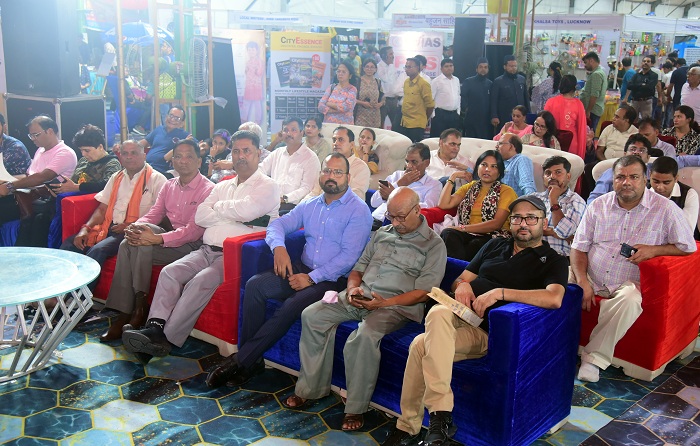 Nitish Dixit of Naw Shakti Biofertilizers Pvt Ltd is leading an organic product line as part of Naw Shakti Biofertilizers  company, they specialize in fertilizers. Working with a network  of at least 5000 farmers they now have a target to make 20000 to 25000/- farmers active and provide best quality at low price. Best deals and value for money add to the repertoire of the company. Similarly, Ravi Chauhan, COO, Agrigators Enterprises Pvt Ltd works ona wide gamut of disciplines namely innovation efeed leverages farm-level bioinformatics to develop and manufacture innovative livestock nutrition products.
He says – The idea is to help the farmers improve their purchasing power by improving livestock yield and at the same time reduce methane emissions. The team of experts has spent a great amount of time on the field with all types of cattle farmers in India.  Furthermore, the platform is built on 39 data points of cattle health and feeding behaviour.
Similarly working in the Agri startup sector, Raj Yadav, is involved in Agripro Junction Ventures Pvt Ltd. Raj Yadav and his team of technology driven enthusiasts have been reshaping the agri economy through powerful Technology based Innovation. Empowering Farmers for Sustainable Growth is at the heart of Gramik, a Social Commerce Platform in Agri-tech contributing to the village economy.  For Raj Yadav and his team, the idea is to strengthen and transform Indian farmers and rural communities by providing access to essential resources and knowledge.
Through this they will be working to strengthen and transform Indian Farmers. The basis of which is seamless access to Quality Farm Inputs, Expert Knowledge, Technical Innovations, and Livelihood & Business Skills for Farmers, Women, and Rural Youth among others.
Sourabh Menghi, Director, Menghi's Pvt Ltd believes even poultry farmers need some care and monitoring. In a bid to make farms digitally traceable and make real data accessible to every farmer, the inception of Poultrify seems to be setting a positive trend. To empower farmers with digital tools and services so as to help them improve their productivity and sell their produce better and faster in the market Poultrify is working doubly hard.  The role of Poultrify holds significance given that the Indian economy depends on agriculture as about three fourths of the Indian population thrive on agriculture and related activities.
Atif Kidwai of Kidwai's Farm Pvt Ltd adds Kidwai's Farm Pvt. Ltd. was incorporated in Lucknow on 15th September 2021 under the companies Act, 2013. Kidwai's Farm Pvt. Ltd., incubated at Amity Innovation Incubator, Lucknow, is currently in the scaling stage. They have journeyed thus far through bootstrapping, driven by innovation and dedication. The commitment is to redefine campus dining. Specializing in QSR restaurants within colleges, they offer students an effortless online ordering experience.
Sandeep Saxena Subohi Agri Parks Pvt Ltd, Lucknow said Subohi is an innovative agri-partnership model aimed at empowering farmers through a capacity building process, credit facilitation and leveraging his/her traditional farm/allied skills to increase rural income.
The company has drafted a roadmap to set up a chain of village hubs titled 'Subohi Kisan Clubs' in different states and join hands with local farmers to promote farm/rural based economic activities. They have planned to launch 12 verticals through the medium of Subohi Kisan Clubs with the first hub proposed to be launched on the outskirts of Lucknow City. The proposed Subohi verticals are based on –
Animal Husbandry, Agro-tourism, Agri-tech, Microfinance, Agri-science, Agri-education, Agri-culture, Marketing, Horticulture, Agro-insurance & Agri-preneur & Cottage industry. Kunal Dixit of Agromediz Pvt Ltd said AgroMediz is working in the space of Agritech. We work In Tissue Culture a process through which the best and Ideal variety of Plants which are disease free. The Need For Food In upcoming years is going to Increase And Land And Resources are Limited so in order to meet the future hunger ratio or to provide food To everyone, they are on a stage to convert to Agri – Tech.
Brijendra Kumar Singh of Sanjeevani Mati Farmers Pvt Ltd said Do you know with help of new technology 1 Cow's gobar can give  sustainable = 1 acre Land which is usually created through chemical fertilizers. This has been proved by Start up "Two Acres AgriTech Pvt Ltd" team of Russia, Israel and India agricultural scientists with their award-winning research spanning over 15 years.  It provides primary nutrients Nitrogen, Phosphorus and Potassium, the secondary nutrients.
Among the vibrant minds to be awarded in the health startups space were Dr. Jitesh Pandey's MedBlue Innovation Pvt Limited, Through its groundbreaking product Bilisure, it  is dedicated to addressing the critical issue of neonatal jaundice. Bilisure – a non-invasive bilirubin measurement device developed by Medblue is designed to aid in the early detection and monitoring of jaundice in newborns.
Dhiraj Singh of Sukrati Meditech Innovation Pvt Ltd was another awardee.  His role in the second wave of COVID – 19 by a unique innovation to combat oxygen shortage has been widely acknowledged.   For the construction of this apparatus, they used the hanger yoke assembly of an old Boyle's anaesthesia.
Kamal Sehgal of Inframedtech Pvt Ltd has been awarded for a Novelty patented solution of Smart Warmer Retro – kit " Intelli – Warm" and Cloud platform "Intelli Warm " makes them unique in the market. Their retrokit is a plug and play solution which can be installed within 15 minutes on an infant warmer of any make thereby enabling digital transformation at low cost. The kit not only monitors multiple vital parameters but also do thrmoregulation.
Ashish Kumar Kannaujia of Anand Medicare Pvt Ltd, said the present video laryngoscope is a portable, single use, device compatible with smartphones, tablets and laptops etc. This device is designed according to the anatomy of human airway. It has a handle , blade and  digital  camera &LEDs proximal to the tip of  the blade. The camera & LEDs and lens are enclosed in a waterproof casing and  these are placed in such a way that it illuminates and images the   area of interest. It can be connected to the personal electronic communication devices like smartphones, tablet , personnel computer,laptop etc.
Stuti Lal led Bikalp Herbals Private Limited is a startup initiated with the idea of presenting the traditional knowledge in a modern way. The product focus is on using Rasayana herbs mentioned in ancient Ayurvedic literatures, giving multiple benefits to the human body. These infusions caters to the need of stress borne syndrome induced by 24×7 lifestyle, inadequate and irregular intake of foods, irregular sleep and sedentary work.
Also working in that league is Gaurav Srivastava, who is running InnerSoul. Gaurav Srivastava is the Founder and CEO of InnerSoul. Armed with work experience across social, government and government sectors, Gaurav has worked in prestigious organisations like Tata Trusts, Jagriti, TCS, E&Y and the World Bank. His sense of empathy, personal journey and exposure to a varied world view, Gaurav is helping build a complete ecosystem for mental wellbeing at the pan-India level.
Innersoul.in is a digital platform where licensed therapists perfectly matched to your unique needs. Whether you prefer text, call, or video sessions.its digital approach ensures that the best mental health online therapy consultation is accessible from anywhere.
The event was very deftly hosted by Anjali Gupta.
नोट:
अगर आपको यह खबर पसंद आई तो इसे शेयर करना न भूलें, देश-विदेश से जुड़ी ताजा अपडेट पाने के लिए कृपया The Lucknow Tribune के  

Facebook

 पेज को 

Like

व Twitter पर 

Follow

करना न भूलें...
-------------------------