Students from Bijnor gain from experience of U.P. Governor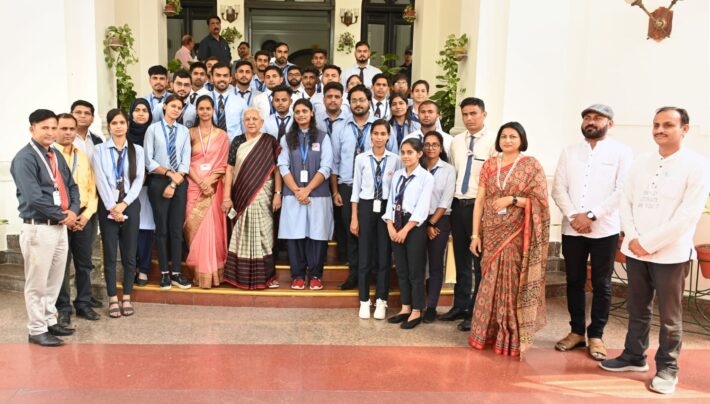 Lucknow: The students of Krishna College, Bijnor met State Governor  Anandiben Patel at Raj Bhavan  and got the experience of enlightening discussions. During the meeting, the students expressed many of their curiosities before the Governor and took inspiration from various questions along with their curiosity on her vast experience.
In order to solve the queries of the students, the Governor emphasized on not linking education with employment and giving priority to self-reliance. She said that merit does not seek job. Qualified and skilled people become self-sufficient by doing their own work. She described the initial knowledge and proper nutrition received from the family as essential in the overall development of the child. She said that the habit of performing work with right manners, respect for workplace and dedication towards responsibilities is inculcated in the family from childhood itself.
In the same sequence, she also said that it is necessary to add the education of Garbhadhan Sanskar in the universities and said that the child starts learning from the mother's womb itself, so it is necessary to know how the mother and the family should behave during pregnancy.
Discussing the practical knowledge of the students, the Governor encouraged the students who came during the meeting to participate in maximum activities outside the academic campus. She said that work done and participation in addition to school education increases practical knowledge. Discussing the stress-free student life, the Governor said that it is necessary for children to get education by choosing subjects according to their interest. In this sequence, she told that in the National Education Policy-2020, a system has been made to select the subject according to the interest of the students.
The Governor described mutual comparison of children's abilities as fatal for their overall development and said that parents should not compare their children with each other or any other child's ability. The child should choose education and profession according to his ability and interest. The students discussed many issues with the Governor like employment selection after education, stress during education, health and nutrition supply and received informative information. All the 35 students who came for the meeting had come from Krishna College, Bijnor along with their principal and three teachers. This college is an aided college affiliated to Mahatma Jyotiba Phule University Bareilly. The students also got other information by visiting the Raj Bhavan.
नोट:
अगर आपको यह खबर पसंद आई तो इसे शेयर करना न भूलें, देश-विदेश से जुड़ी ताजा अपडेट पाने के लिए कृपया The Lucknow Tribune के  

Facebook

 पेज को 

Like

व Twitter पर 

Follow

करना न भूलें...
-------------------------