Study in India Website Portal Outreach and Orientation Program held in New Delhi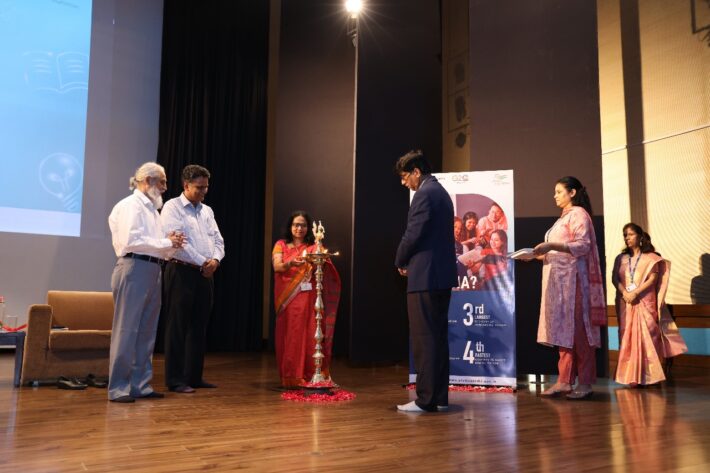 • The Study in India portal was launched on August 3, 2023 by Union Education Minister Shri Dharmendra Pradhan, and External Affairs Minister Shri S Jaishankar in Delhi
• Prof. Abhay Karandikar, Director IIT Kanpur, and Chairperson Apex Working Group of SII highlighted the crux of the program and future plans
• The new portal offers ease of access with an integration of Visa and application processes
New Delhi: An orientation program was held today for Compliance Officers of Higher Educational Institutions (HEIs) from across the country on the Study in India (SII) portal, developed as a one-stop end-to-end solution for all students aspiring to come to India for their higher studies. The SII Website Portal Outreach and Orientation Program was conducted at the All India Council for Technical Education (AICTE) HQ in New Delhi with speakers including Shri K Sanjay Murthy, Secretary, (Higher Education) HE, Ministry of Education (MoE); Prof. Abhay Karandikar, Director IIT Kanpur, and Chairperson Apex Working Group of SII; Prof. Anil Sahasrabudhe, Chairperson National Educational Technology Forum (NETF); Mr Buddha Chandrasekhar, Chief Coordinating Officer, AICTE; Shri Surender Kumar, Director (Foreigners), Ministry of Home Affairs (MHA); Shri Sanjay Asthana, Under Secretary (CPV), Ministry of External Affairs (MEA); Dr B Chandrasekhar, Executive Director (Corporate Planning), EdCIL; and Smt. Neeta Prasad Joint Secretary (P & ICC), MoE.
The program saw the speakers expanding on the features and benefits of the SII portal and the functionality of the site. Short informative promotional films on studying in India were also screened on the occasion. A brochure on the SII initiative was unveiled by the guests on the dais.
The program highlighted how the Indian education system, with its rich history dating back thousands of years, has evolved into a modern-day system that boasts over 42,000 colleges and 1,000 universities. This vast network has positioned India as a prominent affordable high-quality education hub for international students. The "Study in India" program builds on this potential and richness of the Indian higher education system.
The Study in India (SII) program is a flagship initiative introduced by the Ministry of Education, Government of India. The Study in India portal was launched on August 3, 2023 by Union Education Minister Shri Dharmendra Pradhan, and External Affairs Minister Shri S Jaishankar in Delhi. SII's primary objective is to promote India as a premier education destination for international students, inviting them to pursue higher education in the country and providing a one-window end-to-end solution for students.
Shri K Sanjay Murthy, Secretary, HE, MoE, talked about the portal's objective "to bring a cohesive and coordinated action towards easing the processes of regulatory requirements of any student to study in India." He stressed upon the seamless integration of processes the portal ensures, and the need for collective efforts from institutions in achieving shared goals.
Prof. Abhay Karandikar, Director IIT Kanpur, and Chairperson Apex Working Group of SII gave opening remarks; while Prof. Anil Sahasrabudhe, Chairperson NETF; and Mr Buddha Chandrasekhar, Chief Coordinating Officer, AICTE, gave an overview of the SII portal to the participants.
The attendees were taken through the SII portal with details of the registration and selection process for both students and institutions. To make higher education more accessible and ensure a seamless experience for international students, functionality and user-friendliness of the 'Study in India' portal have been enhanced with smooth navigation and features that facilitate easy application, admission and visa processes.
India's education system has been at the forefront of knowledge dissemination since ancient times. From the ancient Gurukul system to today's modern institutions, India has remained a preferred learning destination and center of knowledge. Presently, higher education institutions in India offer global standards of learning, making the country a leading education hub. The Study in India program aims to spread this message globally. The program encompasses a vast network of government and private colleges, as well as Institutes of National Importance (INIs), all of which offer quality education at affordable rates. The curriculum in these institutions is a blend of theoretical and practical elements, ensuring that international students receive a comprehensive education.
Prof. Abhay Karandikar, Director IIT Kanpur, and Chairperson Apex Working Group of SII, said, "This new Study in India portal is a one-stop integrated platform with all the Visa and application processes for the ease of international students. Going forward, this will be a single window portal where we'd enrol all the students coming to study in India. We hope that this portal would lessen all the hassles students have had to face for opting to study in any Indian institute."
"We are also planning various outreach activities such as the 'Pathways' program to reach out to the higher secondary level students from various countries to opt for higher studies in India," he added.
Since its inception, the "Study in India" program has seen significant growth. Collaborating with over 160 colleges that offer a diverse range of 2,600+ courses, the program has expanded its reach to over 136 countries. Thousands of students have enrolled, and the numbers continue to grow. The program has also organized numerous educational fairs in countries like Malaysia, Vietnam, Nepal, Sri Lanka, Bangladesh, Mauritius, Tanzania, Uganda, Ethiopia, Dubai, USA, Indonesia, Kenya, Bhutan, and more. These fairs aim to provide insights about studying in India and simplify the educational journey for prospective students.
Recognizing the potential of the African continent and its young, vibrant population, the "Study in India" program will begin a dedicated outreach scheme in Africa. This initiative will foster stronger educational ties between India and African nations and ensure that students from the continent are well-informed about the opportunities available in India. Through a series of interactive sessions, webinars, and on-ground educational fairs, the program intends to reach out to potential students, offering them guidance and support in their pursuit of higher education in India. The "Study in India" program is a testament to India's leading position as a global education hub.
नोट:
अगर आपको यह खबर पसंद आई तो इसे शेयर करना न भूलें, देश-विदेश से जुड़ी ताजा अपडेट पाने के लिए कृपया The Lucknow Tribune के  

Facebook

 पेज को 

Like

व Twitter पर 

Follow

करना न भूलें...
-------------------------