Suposhan Sangini goes beyond the call of duty to help save lives of mother and child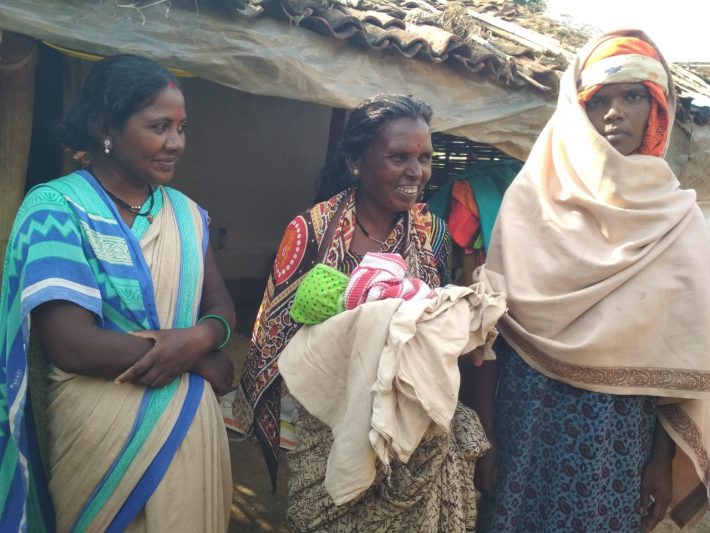 Nagpur: Late in the night of October 8, 2021, Sumitra Botre was woken up by a loud bang on her door. Hurriedly, she opened the door to find a woman –a resident of the same village – standing there requesting her help. The woman's daughter, Varsha Kohle, was in labour pain and needed Sumitra's help.
Sumitra Botre has been working as a SuPoshan Sangini under the FortuneSuPoshan project in Saoner block of Nagpursince2018. She lives in a tribal village, Sarra, in Saoner. Most of the families in this village are poor.
Sumitra calmed the woman and got details of her daughter's condition. She called the ASHA worker living in the village and went to see Varsha.Looking at her condition, they decided to take her to the nearest Primary Health Centre (PHC) in Badegaon. The on-duty doctor denied admission to Varsha citing high-risk pregnancy. She suggested them to take her to the PHC in Saoner or admit her to Daga Hospital in Nagpur. The doctor said she had been following up with Varsha for quite some time and knew her situation. She conceived her child at the age of 40, and as per her last sonography in the ninth month, the child weighed less than 2 kg. Sumitra prayed to God and did everything to save both the mother and the child.
But problems kept mounting for Sumitra. First, the ASHA worker left for her home saying her child had fever. Second, no ambulance was available when she called 108.She requested the doctor to help arrange a private ambulance.The driverquoted Rs 2,000 to ferry them to Nagpur.She asked the driver to charge a little less because she had to pay the hospital admission fee as well. But he did not agree. She then reached out to her husband for advice who suggested her to call the Panchayat Samiti Member (PSM). The PSM spoke to the driver, who finally agreed to take Varsha to Daga Hospital for Rs 1,500.
They reached Daga Hospital at 3 am. But there too she was denied admission asVarsha's condition had worsened.Doctors and other people in the hospitalsuggested Sumitra to take herto Mayo Government Medical College in Nagpur. It was 4 amwhen they reached Mayo. She was admitted and her treatment began.
Varsha gave birth to a healthy baby boyweighing 2.5 kg at 11 am. Sumitra's face lit up with joy and pride. Her effort had paid off. She had gone beyond the call of duty to help Varsha and set an example for others. She stayed with Varsha in the hospital and paid the entire bill of Rs 5,000. Grateful Varsha told Sumitra, "My child and I owe our lives to you. I will forever be indebted to you." The entire village of Sarra lauded the efforts of their own SuPoshan Sangini.
नोट:
अगर आपको यह खबर पसंद आई तो इसे शेयर करना न भूलें, देश-विदेश से जुड़ी ताजा अपडेट पाने के लिए कृपया The Lucknow Tribune के  

Facebook

 पेज को 

Like

व Twitter पर 

Follow

करना न भूलें...
------------------------- --------------------------------------------------- -------------------------------------------------------------------------------------------------------------------------------------------------