Taking leaf out of BJP book, SP cancels rally in Ayodhya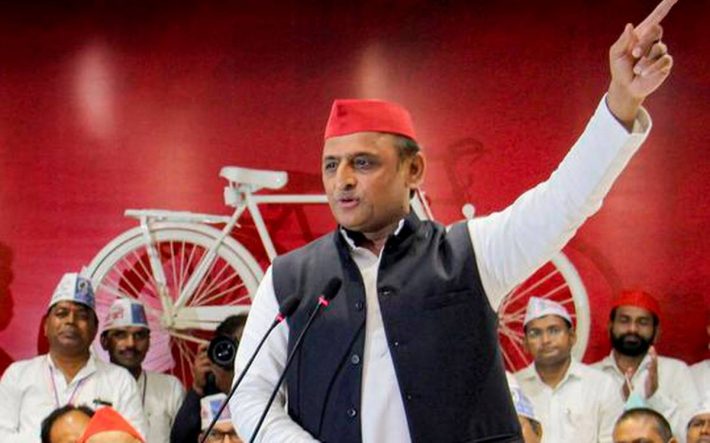 Lucknow: In view of the assembly elections, the political temperature is rising in Uttar Pradesh. The coronavirus is also spreading. Samajwadi Party's Vijay Rath Yatra was to be held in Ayodhya on January 9 but it has now been  cancelled. This decision has been taken in view of the increasing cases of  corona virus infection and Omicron.
SP President Akhilesh Yadav has also cancelled his other rallies to be held in Gonda on January 7 and Basti on January 8. At the same time, the Vijay Rath Yatra to be held in Ayodhya on 09 January has also been postponed. Akhilesh Yadav's Vijay Rath Yatra was proposed in Ayodhya on 9 January after night rest at Ayodhya Circuit House on the night of 8 January. Apart from this, his public meeting was also to be held in Ayodhya city and Rudauli, which have been postponed.
This has been confirmed by SP leader and former minister Tej Narayan Pandey and state secretary of Lohia Vahini Vishal Mani Yadav alias Rikki Yadav. Last month  Akhilesh Yadav canceled another rally in western UP. He  said that he would stay away from public events for three days as his wife and daughter tested positive for COVID-19. Yadav shared his Covid-negative report on Twitter and said that he has taken this decision as a precaution as his family members have got infected.
2038 new corona patients found, 03 from Omicron too
Cases of corona infection are increasing at double the speed in UP. On January 4, 992 patients of Corona were exposed. On January 5, this figure more than doubled.  Uttar Pradesh Additional Chief Secretary Health Amit Mohan Prasad said that in the last 24 hours, 2038 new cases of corona have been reported in the state and no one has died due to corona.
The number of active cases during this period is 5158, so far a total of 16,88,058 recoveries have taken place. At the same time, two patients of Omicron have appeared in Aligarh and one patient has appeared in Agra district. With this, there have been 34 cases of Omicron in the state.
नोट:
अगर आपको यह खबर पसंद आई तो इसे शेयर करना न भूलें, देश-विदेश से जुड़ी ताजा अपडेट पाने के लिए कृपया The Lucknow Tribune के  

Facebook

 पेज को 

Like

व Twitter पर 

Follow

करना न भूलें...
------------------------- --------------------------------------------------- -------------------------------------------------------------------------------------------------------------------------------------------------