Talkatora traders thank Mayor for easing rent burden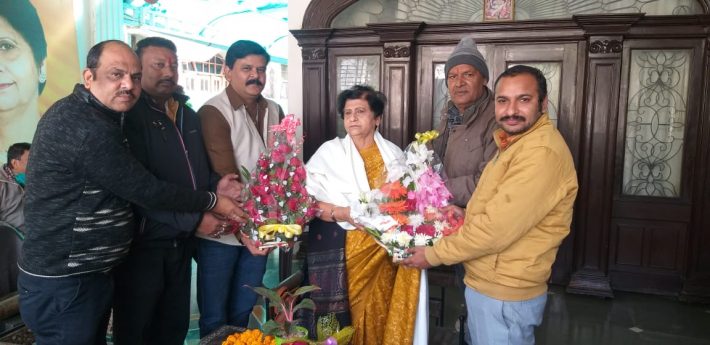 Lucknow: The traders have thanked Mayor Sanyukta Bhatia for providing a rebate in rent for two years out of the increased rent of three hundred shops of Talkatora Road for four years.
In the year 2017 by the Lucknow Municipal Corporation, there was an order to increase the rent of about three hundred shopkeepers of Talkatora Road by 6 times.
For a long time, under the leadership of Raman Mishra, the city youth president of Uttar Pradesh Udyog Vyapar Mandal, Alambagh Talkatora Road Trade Board General Secretary, there was a demand from Mayor Sanyukta Bhatia to withdraw this increased rent.
In the executive meeting of Lucknow Municipal Corporation, the proposal to withdraw the increased rent was accepted in the executive committee, there was joy among the shopkeepers.
Uttar Pradesh Industry Trade Board, Provincial Media In-charge Yogendra Singh, City Senior General Secretary Amarnath Agarwal, Treasurer Dharampal Aggarwal and Alambagh Talkatora Road Trade Board's Patron Shyam Mishra President Sandeep Kant Rajan, General Secretary Raman Mishra, Senior General Secretary Jitendra Prasad Kanojia Treasurer Anil Gulwani at 11 am. Presenting flowers to the mayor at the residence of Mayor Sanyukta Bhatia and thanking the mayor vehemently welcomed this bold decision.
City Youth President Raman Mishra, while strongly welcoming the bold decision of the Mayor, said that with this order of yours, an atmosphere of happiness and enthusiasm prevails among the shopkeepers. The shopkeepers you have given the gift of rebate of rent in the new year got a lot of relief.
नोट:
अगर आपको यह खबर पसंद आई तो इसे शेयर करना न भूलें, देश-विदेश से जुड़ी ताजा अपडेट पाने के लिए कृपया The Lucknow Tribune के  

Facebook

 पेज को 

Like

व Twitter पर 

Follow

करना न भूलें...
------------------------- --------------------------------------------------- -------------------------------------------------------------------------------------------------------------------------------------------------