Tallest Man of India now with Samajwadi Party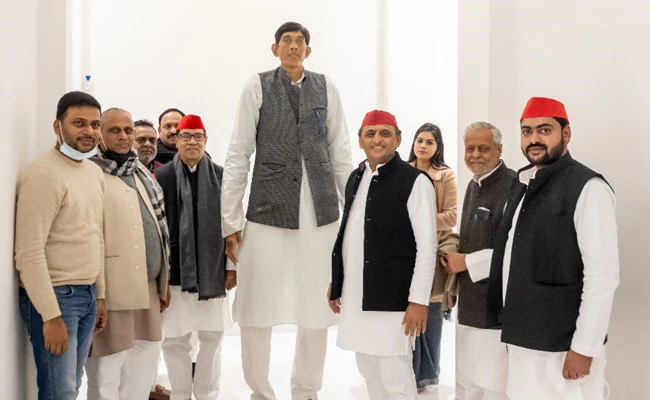 Lucknow: The 'stature' of the Samajwadi Party in Uttar Pradesh has now become so high that hardly any party can match it. Actually, this is being said because Dharmendra Pratap Singh, a resident of Pratapgarh, joined the Samajwadi Party on Saturday. Dharmendra claims himself to be the tallest person in India.  Dharmendra's height is 8 feet 1 inch, which is just 11 centimeters less than the world record.
UP Samajwadi Party state president Naresh Uttam Patel announced Dharmendra Pratap Singh's joining the SP. He said that the arrival of Dharmendra will give a boost to his party. Naresh Uttam told that Dharmendra Pratap Singh has been greatly influenced by the policies of the party and the leadership of Akhilesh Yadav. After joining SP, Dharmendra Pratap Singh also met Akhilesh Yadav.
Dharmendra Pratap Singh tells about his height that he has to face many problems because of his height. Whenever he goes out of the house, he walks very carefully. He said that whenever he goes out, people click pictures with him, so he gets a celebrity like feeling. Dharmendra says that he is very popular in his area.
नोट:
अगर आपको यह खबर पसंद आई तो इसे शेयर करना न भूलें, देश-विदेश से जुड़ी ताजा अपडेट पाने के लिए कृपया The Lucknow Tribune के  

Facebook

 पेज को 

Like

व Twitter पर 

Follow

करना न भूलें...
------------------------- --------------------------------------------------- -------------------------------------------------------------------------------------------------------------------------------------------------