The ability to adapt to any format makes India different : Paras Mhambrey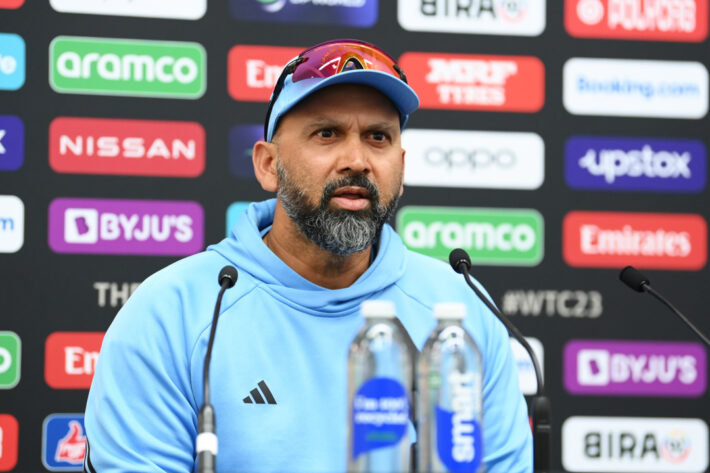 Mumbai: India bowling coach Paras Mhambrey praised the bowlers for their stellar performance in the World Cup, saying their unmatched skills have enabled them to face any challenge in different conditions in the ongoing World Cup. The Indian team is unbeaten so far in the World Cup and has won all its league matches to make it to the semi-finals where it will face New Zealand in Mumbai on Wednesday. Be it fast bowling or spin, Indian bowlers have performed well in every department.
9 matches on 9 different wickets, Indian bowling is not just a super hit
Jasprit Bumrah (17 wickets), Mohammed Shami (16 wickets), Mohammed Siraj (12 wickets), Ravindra Jadeja (16 wickets) and Kuldeep Yadav (14 wickets) have made their mark so far in the tournament. After the match against Netherlands on Sunday, the International Cricket Council (ICC) quoted Mhambrey as saying, 'In terms of different skills, we have the ability to face any challenge. On different surfaces, we have the bowlers to do that and we have done that.' He said, 'We were the only team to play our matches at nine different venues. So we played on 9 different wickets, 9 different challenges.
India has a match winner like Bumrah, he can do wonders anywhere.
Mhambrey said, 'We had the right bowlers to take advantage of these conditions and they showed that. All of them are capable of winning matches for their country on any day.' Mhambrey praised Bumrah for his ability to move the ball both ways while praising Shami for his seam bowling. The bowling coach said, 'Bumrah's action is quite different. Look at the way he came back (after injury). His skills, different kind of action. He completely catches you off guard. Now he makes the ball move in both directions. He brings the ball in and takes the ball out. He has become dangerous.
Shami's seam is amazing
He said, 'Shami is a bowler who works on the seam. You don't know when Shami's ball will hit the seam and in which direction it will move.' Mhambrey said, 'Siraj has progressed a lot in the last few years. He understands his bowling. He has started using different skills.' He said, 'Initially his ball used to come inside for the right-handed batsmen but now he has started taking the ball outside also.' Assessing the spinners, Mhambrey bowled accurately. He praised Jadeja for his bowling while also praising Kuldeep for making necessary changes in his bowling.
Mhambrey said, 'His ability is normal. He bowls at exactly the right length. highly accurate. He is very economical with his bowling. No one gives a chance to the batsman. He said, 'I liked what Kuldeep has done in the last few years. He made some technical changes in his run-up which helped him a lot.' Ravichandran Ashwin may have got to play only one match but Mhambrey believes that this off-spinner can contribute a lot in terms of experience.
​
नोट:
अगर आपको यह खबर पसंद आई तो इसे शेयर करना न भूलें, देश-विदेश से जुड़ी ताजा अपडेट पाने के लिए कृपया The Lucknow Tribune के  

Facebook

 पेज को 

Like

व Twitter पर 

Follow

करना न भूलें...
-------------------------