The much awaited film 'Sab Moh Maya Hai' starring Sharman Joshi and Annu Kapoor is first on TV, on Zee Anmol Cinema!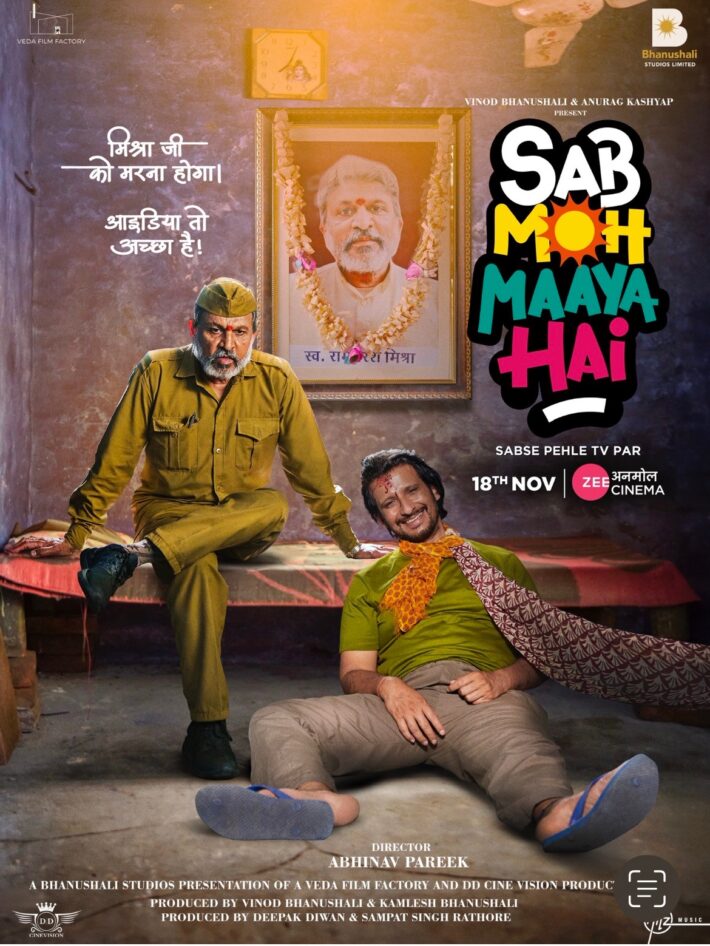 ~ Directed by Abhinav Pareek, this film will be shown first on Zee Anmol Cinema on 18 November ~
With its unmatched brand promise of 'Aapki Family Ka Cinema Hall', Zee Anmol Cinema continues to deliver great entertainment with stellar films that are loved by audiences across the country. The channel always strives to provide an amazing experience to its viewers and is committed to providing them with fresh content at all times. This is the reason why this channel has established itself as the most favorite channel of families. Taking a step forward in this endeavour, Zee Anmol Cinema has released the trailer of the much awaited film 'Sab Moh Maya Hai' starring Sharman Joshi and Annu Kapoor, where the audience can enjoy the film from the comfort of their homes.
Produced by Vinod Bhanushali, Kamlesh Bhanushali, Deepak Dewan and Sampat Singh Rathore, 'Sab Moh Maya Hai', directed by debutant film director Abhinav Pareek, is being shown first on TV on Zee Anmol Cinema on 18th November. Moving forward from the trend of films coming out in theaters or on OTT, Zee Anmol Cinema wants to bring the magic of cinema to the television screen with this film.
'Sab Moh Maya Hai' is a refreshing take on the ups and downs of life, job struggles and father-son relationships. Sharman Joshi has played the character of a young man looking for a government job. On the other hand, talented actor Annu Kapoor plays the character of a government employee who is about to retire soon.
Sharman Joshi said, "This film is special in many ways. It is a confluence of humor and emotions that will touch the hearts of the audience. 'Sab Moh Maya Hai' tells the bitter reality of unemployment and also shows how far a person can go to get a government job. My character reflects the struggles and frustrations of many people who are looking for work. But, in the end, it is a heart-warming story of redemption that shows us the importance of family and the lessons learned along the way, beautifully portrayed with humor."
Annu Kapoor says, "As an actor, I have played the role of a father many times but this is very different from them all. The film delves into the complexities of a father-son relationship, depicting love, struggle and the sacrifices that come with it. It is a story that connects with many people and my character, who is a father, is a mirror of the untold love that parents have for their children."
Director Abhinav Pareek said, "Sab Moh Maya Hai is my first film and it has been an incredible experience. The film gives a glimpse of the complexities of human relationships and the love of a family, which is an all-time favorite subject. I wanted to create a story that not only entertains but also makes the audience think about the choices they make in life, especially when it comes to family matters. The balance of humor and emotions in the film makes it a unique experience. I am thrilled that this release will now give a larger audience the opportunity to connect with the story."
The story of the film is something like this – Ram Naresh Mishra is an ordinary peon. Who is going to retire soon. His dream is that his son Piyush gets a government job. Piyush is an insurance agent who struggles to land a job in any government position. Their deep frustration comes to the fore in their daily debates regarding this quest. The story takes a turn when Piyush comes to know about his friend Raju's government job through the 'Compassionate Scheme'. After this, Piyush expresses a surprising wish and asks his father to die in order to get a job. This infuriates Mishra ji, but he finally agrees with his son, but on one condition. In fact, they want to perform their "Terhavi" before their actual death. After this, a series of very humorous but realistic incidents take place regarding the struggles and relationships of this middle-class family.
So, this 18th November, don't forget to laugh, cry and experience the wonderful journey of life with 'Sab Moh Maya Hai', first on TV, on Zee Anmol Cinema.
नोट:
अगर आपको यह खबर पसंद आई तो इसे शेयर करना न भूलें, देश-विदेश से जुड़ी ताजा अपडेट पाने के लिए कृपया The Lucknow Tribune के  

Facebook

 पेज को 

Like

व Twitter पर 

Follow

करना न भूलें...
-------------------------