Top DRDO Officials visit Defence Technology and Testing Centre at Amausi & Nadarganj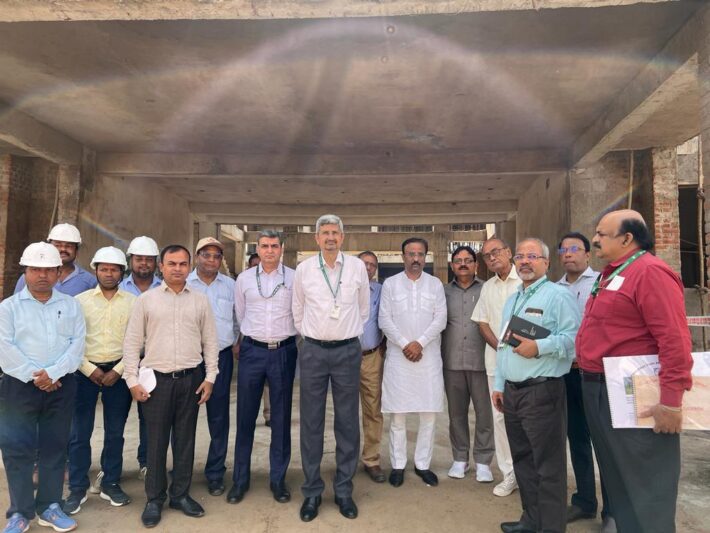 Secretary Department of Defence R&D  and Chairman DRDO visits construction site of Defence Technology and Testing Centre (DTTC), at Amousi & Nadarganj and also integration and test facilities at Bhatgaon (for BRAHMOS)Lucknow
Lucknow: Defence Technology & Test Center (DTTC) is being established at Lucknow to provide technical consultancy & handholding, testing and training support to industries, primarily under Uttar Pradesh Defence Industrial Corridor (UPDIC). DRDO is the knowledge partner to UPDIC and an MoU was signed between DRDO and UPDIC to this effect during Def Expo 2020 at Lucknow.
Dr. Samir V Kamat, Secretary, Department of Defence R&D and Chairman, DRDO held the meeting on 28 August 2023 at Lucknow. Shri Puroshottam Bej, Director General, DRDO, Dr Mayank Dwivedi, Director, DMSRDE, Kanpur, and Manu Korulla, Director, DCW&E and DMS, DRDO Headquarters were also present. Shri Mukesh Sharma, MLC and Nagar Adhyaksh BJP, Shri Raghvendra Shukla, PRO and Shri Diwakar Tripathi, Sansad Pratinidhi of Honb'le Defence Minister were also accompanying.
It is note worthy that Raksha Mantri Shri Rajnath Singh Ji alongwith Chief Minister of Uttar Pradesh Shri Yogi Adityanath Ji, on December 26, 2021 laid the foundation stone for Defence Technology and Test Centre and BRAHMOS manufacturing centre, being established by Defence Research and Development Organisation in Lucknow. A first of its kind defence technologies and test centre is being setup to accelarate the growth of the defence and aerospace manufacturing clusters in U.P. Defence Industrial Corridor.
Dr. Sameer V Kamat, inspected the sites and reviewed the progress of work, gave instructions to complete project on time. The representatives of Hon'ble Defence Minister suggested that the issues and matters which require help from the state government/ district and police administration may be listed so that we may request the concerned authority to help resolve immediately to facilitate on time completion of the project.
Defence Materials and Stores Research & Development Establishment (DMSRDE), Kanpur-laboratory of DRDO- is the nodal agency for the administration and technical operation of DTTC. It is proposed to have 'Modelling & Simulation Centre for Computational Technologies' at Amausi site. 'Technical Testing & Evaluation Centre' and 'Industry Support Centre' are being created at Nadarganj site.
6.The aim of DTTC is to collaborate as knowledge partner for sharing of ideas, resources and expertise with industries in UPDIC. It will provide technical support for innovations, incubation centers, Start-ups, skill development in association with IIT Kanpur, IIT BHU and UP Government.
On the basis of industrial survey, the focus technology areas are Drone/Anti-Drone Systems, EW Sensors, UAVs, Electro-Optic Systems, Precision Components, Fire Safety Equipment, Small Arms& Ammunition, Defence Clothing & Packaging, Paints & Coatings, Titanium Casting, Polymers & Composites, Ballistic Materials, Safety/Protective Gears, Missile Propulsion Systems, etc.
The infrastructure and procurement of equipment for DTTC are being progressed at fast pace. The Centre will be operational by the year end.
नोट:
अगर आपको यह खबर पसंद आई तो इसे शेयर करना न भूलें, देश-विदेश से जुड़ी ताजा अपडेट पाने के लिए कृपया The Lucknow Tribune के  

Facebook

 पेज को 

Like

व Twitter पर 

Follow

करना न भूलें...
-------------------------