Traders have 4 crore votes in the state, traders will be the game changer in this election: Sanjay Gupta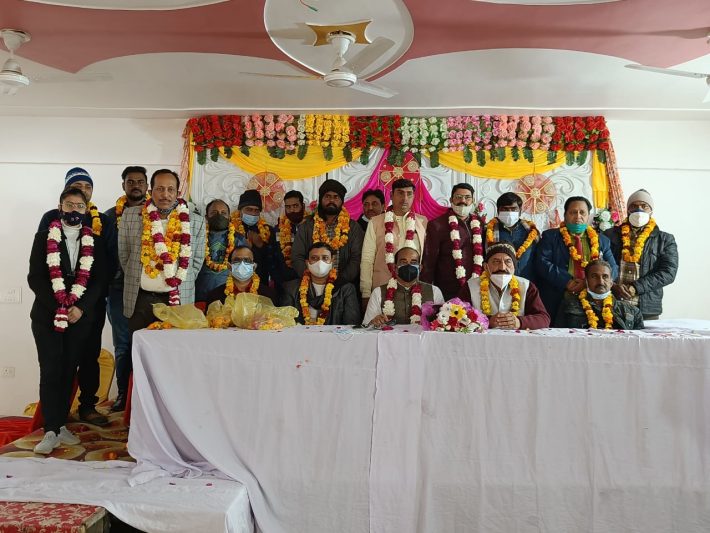 Lucknow: A big meeting of businessmen was organized in Pushpa Marriage Hall, Bijnor, the main market of Sarojini Nagar assembly constituency of the capital, State President of the organization Sanjay Gupta was present as the chief guest in the meeting and Uttar Pradesh Adarsh ​​Vyapar Mandal, Sarojini Nagar Vidhan Sabha Area President and State Organization Minister Om Prakash Sharma was present in the meeting as a special guest.
In the presence of State President Sanjay Gupta, "Uttar Pradesh Adarsh ​​Vyapar Mandal CRPF Chauraha, Bijnor" was formed and the office bearers were unanimously selected. Rohit Pandey, Ajit Yadav, Riyasat Ali as Vice President, Puneet Krishna, Mohammad Kamran as Minister, Mohammad Aftab,  Lakshmi as Organization Minister, and Ramendra Kumar and Shailendra Singh as patrons.
Business leader Sanjay Gupta congratulated all the newly elected office bearers of the newly appointed committee and while speaking on the occasion, he said that the traders will have to be more strong and organized to solve their problems and show the power of their votes, he said in this election.
Traders will be a game changer. Traders are the biggest vote bank after farmers. He said that traders have four crore votes in Uttar Pradesh. Do not listen to traders, he said numbers are important in democracy, he said that ignoring traders will not be tolerated at any cost, he appealed to all for compulsory voting District Vice President Dr AK Singh, Sarojini Nagar President Shailendra Yadav, Gauri Bazar President Vijay Yadav, Bijnor President Dr Sanjit Sinha, Senior General Secretary Umesh Jaiswal, Senior Business Leader Dharmendra Singh were mainly present in the program.
नोट:
अगर आपको यह खबर पसंद आई तो इसे शेयर करना न भूलें, देश-विदेश से जुड़ी ताजा अपडेट पाने के लिए कृपया The Lucknow Tribune के  

Facebook

 पेज को 

Like

व Twitter पर 

Follow

करना न भूलें...
------------------------- --------------------------------------------------- -------------------------------------------------------------------------------------------------------------------------------------------------