Two successive Liver transplants in 24 hrs at KGMU Lucknow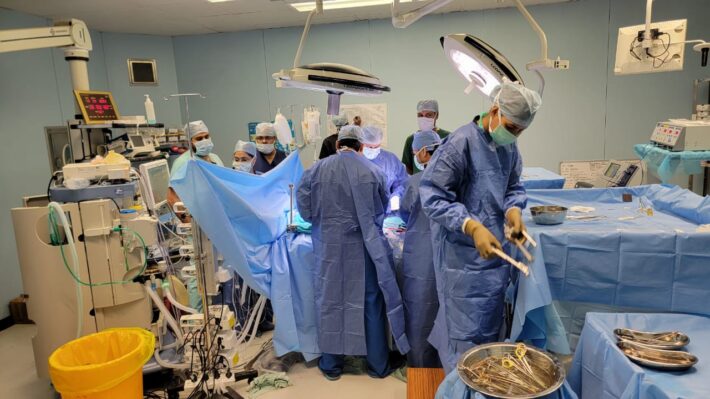 "Two successive Liver transplants in 24 hrs at KGMU Lucknow: one from Living donor and another from Brain Dead Donor"
KGMU creates history by performing two consecutive Liver Transplants in a span of 24 Hours"
KGMU has performed 2 successive liver transplants including one cadaveric
Liver transplantation and the other Living donor liver transplantation in a span of 24 hrs, first of its kind in the country, a breakthrough that will take Government health care to new heights. This has  revolutionized the field of organ transplantation, offering new hope to patients suffering from end-stage liver disease.
Liver was harvested from a 58 year old resident of Rajajipuram, Lucknow, Uttar Pradesh. He was admitted to the KGMU Trauma Centre after road traffic accident where he was on ventilator support. During treatment, he was declared "brain dead" on 6th Nov.2023 and the KGMU organ donation team counselled the family for organ donation.
After routine schedule of Living donor liver transplantation on Monday morning, a team of doctors of Department of Surgical Gastroenterology and Anesthesia including the Faculty, Resident Doctors and staff performed successive cadaveric liver transplantation after getting consent from the family. The devastated family members somehow gathered courage to give their consent for organ donation. This noble decision by donor's family members gave a new lease of life to a needy patient staring at death.
The transplant team was led by KGMU Vice Chancellor Prof. Soniya Nityanand Hon'ble Vice Chancellor. Surgical Gastroenterology team was led by Prof. Abhijit Chandra (HOD, Dept of Gastroenterology and Liver Transplant), Dr. Utkarsh Srivastava, Dr. Gurana Krishna Rao, Dr. Ravindra Budhwani, Dr. Yash Vardhan Sinha & all Residents Doctors including Dr. Rohit, Dr. Sanjay, Dr. Deeban, Dr. Arun, Dr. Dhruv, Dr. Ramraj, Dr. Akash, Dr. Adiveeth, Dr. Julie and Peeyush Shrivastava & Kshitiz Verma, Nand Gopal (Transplant Coordinator) from the Department of Surgical Gastroenterology. OT staffs Rupashree, Mr. Satyaprakash & Mr. Jay Prakash, Sister Anita, Sister Sadhna, and more than 50 OT, ICU, Ward Nurses &and staff of the Department of Surgical Gastroenterology, KGMU.
Other critical services were provided by Prof. Monika Kohli, Dr. Tanmay Tiwari, Dr. Ravi Prakash, & Dr. Rajesh Raman & Dr. Pulak from Anaesthesia team and Dr. Tulika Chandra (Blood Transfusion), Dr. Amita Jain (Microbiology), Dr. Chittij Srivastava (Neurosurgery), Dr. Anit Parihar (Radiology).
Prof. B.K. Ojha (Chief Medical Superintendent) and Prof. BB Kushwaha also supported ensured organ donation act in timely manner.
The gratitude to the donor family can't be expressed in words. There's no greater gift a human can give to another human being". The recipient was suffering from liver failure from a very long time when this miracle cadaver donation happened at KGMU.
This was herculean task which happened in KGMU with the complete support and wishes from Hon'ble Vice Chancellor, KGMU.  This is a golden feather in the already successful running liver transplant program at KGMU and a big boost to organ donation.
The success of two successive 24-hour liver transplants is also attributed to dedicated teams of medical professionals who work around the clock to make this medical marvel a reality.
It's a shining example of how commitment can transform the lives of patients, offering new hope where there was once despair. The future holds the promise of even more remarkable breakthroughs in the field of organ transplantation, as we continue to push the boundaries of what is medically possible.
Till date total 30 liver transplants (23 living donor & 7 deceased donor) have been performed at KGMU, Lucknow.
नोट:
अगर आपको यह खबर पसंद आई तो इसे शेयर करना न भूलें, देश-विदेश से जुड़ी ताजा अपडेट पाने के लिए कृपया The Lucknow Tribune के  

Facebook

 पेज को 

Like

व Twitter पर 

Follow

करना न भूलें...
-------------------------