U.P. all set to kickstart Seva Pakhwada with launch of Ayushman Bhav Campaign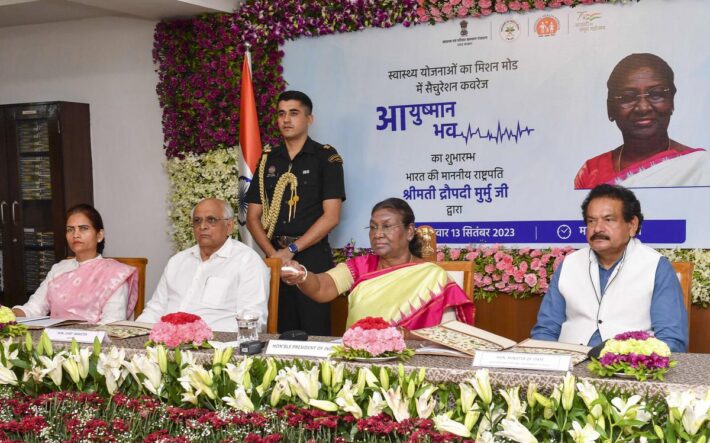 Lucknow: President Draupadi Murmu virtually launched the Ayushman Bhava Campaign at the national level. Yogi government in Uttar Pradesh will start a campaign regarding this scheme in the entire state from September 17. This campaign has been divided into 5 parts. Under this, Seva Pakhwada will be organized from September 17 to October 2, while Ayushman Aapke Dwar 3.0 will also start from September 17. Not only this, Ayushman Mela will also be started from this day. Ayushman Sabha will be organized from October 2. Apart from this, Ayushman Gram Panchayat and Ayushman Urban Ward will also start.
Cleanliness campaign will run in Seva Pakhwada
The Seva Pakhwada starting from 17th September will continue till 2nd October. Under this, cleanliness campaign will be run. This cleanliness program will be carried out at all public health facilities at primary, secondary and tertiary health care levels with the support of Gram Panchayat members, JAS, RKS. Apart from this, voluntary blood donation camps will also be organized to increase awareness about the need for regular voluntary blood donation and the opportunity for social solidarity. Similarly, awareness will be created about the importance of organ donation and people will be motivated to take a pledge to donate organs after death.
No eligible beneficiary will be left out
Ayushman Aapke Dwar 3.0 is being launched for distribution of Ayushman cards to all the remaining eligible beneficiaries under PMJAY scheme. It will be ensured that no eligible beneficiary is left out. With the intention of accelerating the manufacturing of Ayushman cards, 'Ayushman Aapke Dwar 1.0' was launched in 2021 and 'Ayushman-Aapke Dwar 2.0' was launched in 2022. Through this, the card can be made by registering yourself. Card manufacturing will be done using FLWs, Fair Price Shops (FPS), card manufacturing agencies, volunteers, social workers etc.
Dengue havoc continues in Lucknow, dangerous variant found in Noida
Door-to-door e-KYC and card delivery facility will be available. DM has been made the nodal officer for this entire program. Asha workers, frontline workers under Panchayati Raj and self-help groups will be supported for activities related to e-KYC and IEC for card manufacturing. Local public representatives can be involved to encourage the people.
Health fair will be held on Saturday and Sunday
Under Ayushman Mela, a health fair will be organized every Saturday at the Health and Wellness Center. This will ensure to optimize the utilization of services, provide a platform for people to express their issues and concerns about health services and enhance behavior change among people through group wellness activities.
Similarly, a weekly fair will be organized at the CHC by the Medical College on every Sunday. This will include increased access to specialist and outreach services at CHCs to ensure continuity of care. Screening, diagnosis and basic and advanced health care services will be provided through specialized care, including tertiary care setup and referral to specialized and diagnostic services.
Awareness will be increased about health services
Ayushman Sabha will start from October 2. Under this, Ayushman Sabha will be organized under the leadership of VHSNC, urban body at a village, ward level to increase awareness about various health schemes and services. Ayushman card will be distributed and displayed in this. In this, information will be provided regarding the list of eligible beneficiaries as well as the list of beneficiaries receiving treatment and the list of empaneled hospitals.
There will be special health talks to raise awareness about NCDs, TB and Sickle Cell Disease, communicable services and their eradication and facilitate the creation of Abha ID. Apart from this, Ayushman Gram Panchayat and Ayushman Urban Wards will also be organised. This is the status that is to be given to villages and wards that achieve various parameters by March 2024.
नोट:
अगर आपको यह खबर पसंद आई तो इसे शेयर करना न भूलें, देश-विदेश से जुड़ी ताजा अपडेट पाने के लिए कृपया The Lucknow Tribune के  

Facebook

 पेज को 

Like

व Twitter पर 

Follow

करना न भूलें...
-------------------------