U.P. Police does clever messaging through SRK's Jawan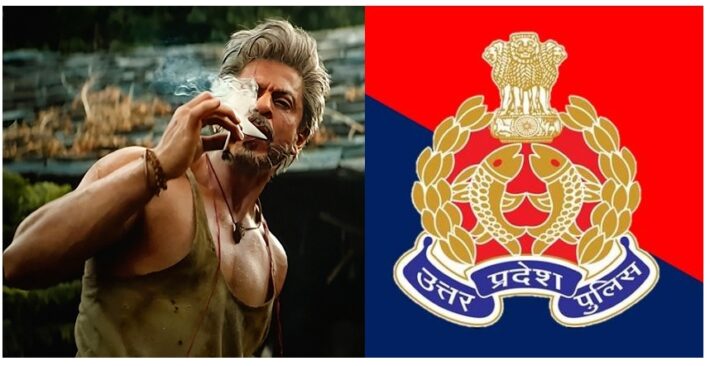 Mumbai: In a UP Police Post it has been said that there is no need to tell what is the madness of the king of Bollywood and famous actor Shahrukh Khan. This time he has once again proved why he is called the King of Bollywood, now the Uttar Pradesh Police has given an important advice to the countrymen through Shahrukh's jawan.
Shahrukh's Jawan is currently being praised from all over the world. Shahrukh has also broken the record of his film 'Pathan' and has jumped towards a new record. Similarly, after UP Police's post on X, netizens have given different reactions on the creativity of the police. In fact, earlier Mumbai Police had also used Shahrukh's young look to advise on traffic rules.
Now UP Police has made a banner of King Khan wearing a bandaged look on one side and a helmet on the other side and has shared that photo on social media, the response to it has also been tremendous. Shahrukh's banded look in Jawan has come into discussion, in which he has protected himself by applying bandages on his head.
Different reactions of people came out
The traffic police has used Shahrukh's picture to warn citizens, and tweeted that whether you are young or old, do not forget to wear a helmet. This video has drawn different reactions from people.
Jawan earned Rs 500 crore in just four days
Talking about Shahrukh's film Jawan, now the figures have come out that it has earned Rs 500 crore in just four days, it has been seen that Jawan is getting a very good response from fans all over the world. Shahrukh's 'Pathan' and 'Jawan' were being discussed for the last few days. Ultimately it seems that the soldier is overcoming the current situation.
नोट:
अगर आपको यह खबर पसंद आई तो इसे शेयर करना न भूलें, देश-विदेश से जुड़ी ताजा अपडेट पाने के लिए कृपया The Lucknow Tribune के  

Facebook

 पेज को 

Like

व Twitter पर 

Follow

करना न भूलें...
-------------------------