Under officer Shalini Singh of 67 UP battalion NCC is the only girl NCC cadet to complete the advance mountaineering course.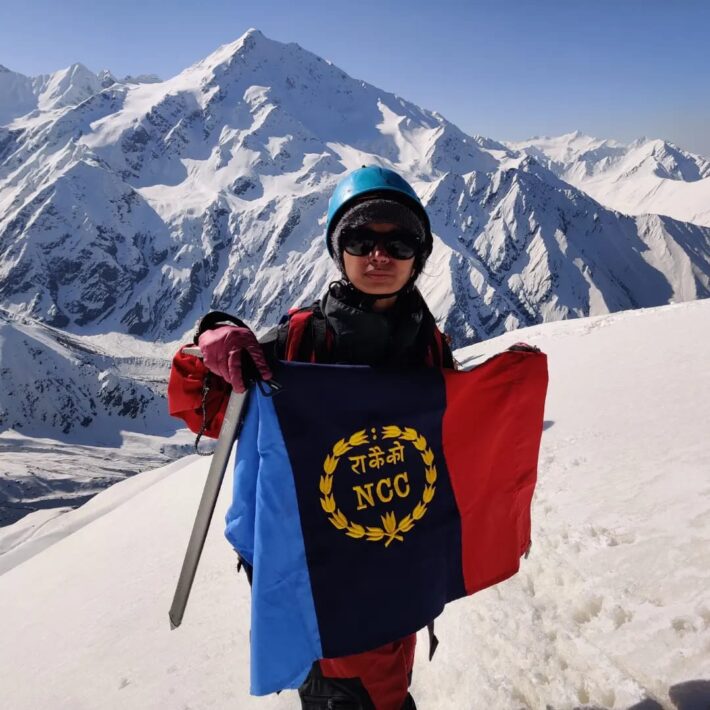 LUCKNOW: Under Officer Shalini Singh of 67 UP Battalion NCC, Lucknow Cantonment is the only girl NCC cadet to have completed the Advance Mountaineering Course. Shalini Singh, a resident of Lucknow, is a BA student of BSNB PG College. This advance mountaineering course was organized from 26 April to 23 May 2023 in the Himalayan region of Uttarkashi in Uttarakhand.
It may be noted that only those NCC cadets who have completed the Basic Mountaineering Course get the opportunity to join the Advanced Mountaineering Course, which Shalini Singh successfully completed last year in 2022 at Pahalgam in Jammu and Kashmir.
Shalini Singh was the only girl cadet included in the 45-member contingent selected at All India level for Advance Mountaineering Course-173. Under this course, Shalini Singh, who was part of the team, successfully completed the summit Hurra Top in the Himalayas in Uttarkashi region on 18 May 23. Located in the Dring Valley (Dokrani Bamak Glacier area), this peak of 15400 feet height is extremely inaccessible and covered with snow, which was difficult to climb. Earlier, Shalini Singh along with a trainee mountaineering team had reached the base camp at 12300 feet on May 9 for mountaineering.
Under this course, the trainee mountaineering team was given special training from 26 April 2023 to 06 May 2023 at Tekla, Uttarkashi at an altitude of 4200 feet by the instructors of the army.
Colonel Puneet Srivastava, Commanding Officer of 67 UP Battalion NCC Lucknow, has had an important contribution in the selection of Shalini Singh for this course, under whose able leadership special training and necessary facilities were provided to her. This achievement is a matter of pride not only for the NCC battalion but also for the Uttar Pradesh NCC Directorate.
After achieving this success, Shalini Singh said in her message that she completed this course with her tireless efforts and passion. She said that this achievement would prove to be an inspiration for the girls of the country. Shalini further said that she completed this course of one month in extremely high inhospitable conditions where the temperature was less than minus 14 degrees.
नोट:
अगर आपको यह खबर पसंद आई तो इसे शेयर करना न भूलें, देश-विदेश से जुड़ी ताजा अपडेट पाने के लिए कृपया The Lucknow Tribune के  

Facebook

 पेज को 

Like

व Twitter पर 

Follow

करना न भूलें...
-------------------------