Unique culture of Uttarakhand fills Lucknow air with positive vibes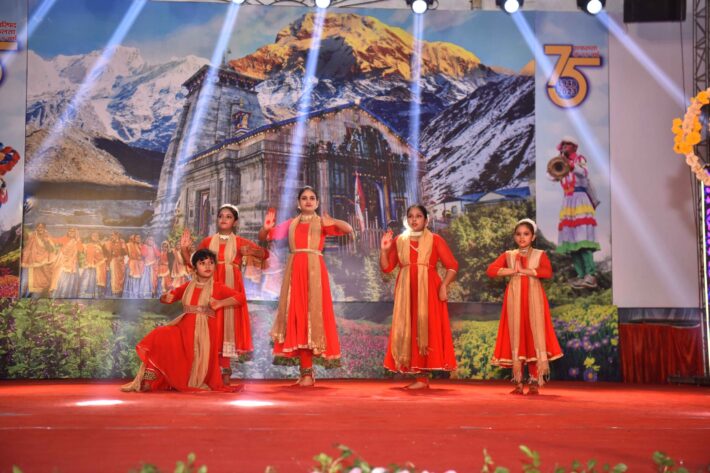 Lucknow: The beautifully decorated Uttarakhand Mahotsav going on at Pt. Govind Ballabh Pant Hill Cultural Park was witness to colourful programs on the grand stage. It was a melodious evening attracting the audience. The artists of Udhanchal Kala Kendra, Almora showcased the beauty of the hills through Chholiya Dal as part of the grand Culture Department, Dehradun, Uttarakhand celebrtions. Visitors roamed around the fair venue, showed stunts and danced.
There was also Self-defense training with a message of women empowerment given by self-reliance:-
Under the joint aegis of Social Upliftment Research and Action (SUTRA) organization, Karate Association of Uttar Pradesh and Jan Shikshan Sansthan, Lucknow, a special cultural presentation was given on the theme of women empowerment by self-defense training- Swalamban on the second day of Uttarakhand Mahotsav.
Yuvraj Vikram Singh played tabla in the program, which was highly appreciated.
The program featured a special presentation by 'Goonj', the community radio of King George's Medical University and through various activities, people were made aware to lead a healthy life and also told how to make small changes in their everyday life. By making changes you can live a healthy life.
Kasturi Singh, Secretary Karate Association of Uttar Pradesh (Women's Branch) said that under the Mission Shakti Abhiyan, the institute is providing free self-defense training to girls in the entire state with the help of the institute.
In the program, Nitish Dhawan, State Director, Village Industries Commission, Government of India,  Shweta Srivastava, Additional Superintendent of Police, Uttar Pradesh Police,  Akanksha Gupta, Manager, Reserve Bank of India, Squadron Leader Tulika Rani,  Reena Singh Chairman, BSSITM Group of Institution, Jaspal Singh, General Secretary, Karate Association of Uttar Pradesh,  Anil Kumar Srivastava, Director, Jan Shikshan Sansthan, Lucknow etc. guests were present.
Shubham Baluni was also honored in the program, a large number of youth were present on this occasion.
Military cell in-charge of Uttarakhand General Council – Rajendra Singh Bisht and S.S. Sethi, Surendra Singh Pokharia, Chatur Singh Rautela, Kundan Singh Adhikari and other distinguished ex-servicemen and officials of Uttarakhand General Council jointly started the evening program by lighting the lamp.
Uttarakhand Maha Parishad honored ex-servicemen at 06:00 pm on the second day of Uttarakhand Mahotsav 2023.
In his address, General Council President Harish Chandra Pant praised the soldiers and said that the soldiers of Uttarakhand (Garhwal and Kumaon Regiment) are known in the Indian Army for their courage and bravery. I feel proud to honor such ex-soldiers today. He sacrificed everything for the protection of the country and increased its honour.
On this occasion, many officials of Uttarakhand General Council including Mangal Singh Rawat, Govind Ballabh Phulara, Hem Chandra Singh, VK Joshi, KS Chufal, Mahesh Rautela, Madan Singh, Bhuvan Patwal, Dev Singh Gughatiyal, Mohan Pant, Ashok Aswal, Sunil Kumar Upreti were present. This Mahotsav was beautifully conducted from the stage by Jagat Singh Rana and announcer of All India Radio – Surendra Rajeshwari.
Media in-charge Rajendra Singh Kanwal said that along with various stalls at the festival site, free medical checkup is being done at the stall of KK Hospital. Various products, pickles, dry fruits, stalls of Uttarakhand, along with the food corner, attractive Uttarakhandi jewelery – new and old design neckbands, nose rings, poujiyas, Maang Tikka, Mangal Sutra Appan, Rangwali Pichhodas are available at the stall of Kumaon Jewellers.
Special solo performance Bharatanatyam, Divyaashi Singh Kumaoni dance under the leadership of Ame Dance Group-Shubham was highly appreciated. Special dance by Bharatnatyam group, Ganesh Vandana, Romi Singh, Sanjay Srivastava and Sanjay and Tanushree of the group entertained the audience by presenting folk songs, bhajans, ghazals and Dhun Banjara Basuriya group under the leadership of Manju Srivastava, Awadhi folk dance.
Uttarakhandi group dance presented by Divyaashi Singh, Romi Singh and Sakshi in the song Payaliya Teri Cham-Cham Bajeli by Sunita Bisht. Under the leadership of Reena Srivastava and Mamta Parveen, the dance academy presented Ganga Avtaran, Durga Bhakti, Uttarakhandi dance and received a lot of applause.
Spreading the runes of  Uttarakhand, Govind Bora sang Bholi Duty Kamala Nehjala, Harish Vishwakarma sang Vani Gaini Vani Gaini Hiwali Kathi Chandi Ki Vani,  Mansi Bajetha sang Tu Laagi Raichha Swana and Pankaj Vanagi tried to retain their place in the competition by singing Bhal Lagundi Banuli Tera.
Bhajans and group dance were presented by the artists led by  Anjali Khanna in collaboration with North Central Zone Cultural Center Prayagraj, Ministry of Culture, Government of India.
नोट:
अगर आपको यह खबर पसंद आई तो इसे शेयर करना न भूलें, देश-विदेश से जुड़ी ताजा अपडेट पाने के लिए कृपया The Lucknow Tribune के  

Facebook

 पेज को 

Like

व Twitter पर 

Follow

करना न भूलें...
-------------------------