Unique Expression of Creativity on Canvas through photographs of Prof. Jai Krishna Aggarwal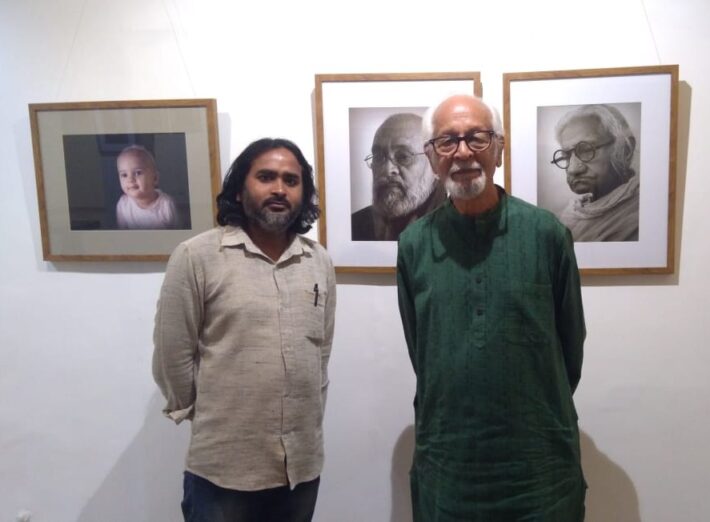 Lucknow: The process of painting a picture or taking a photograph of a person is called portraiture. If an art exhibit only includes pictures of faces, you might describe its focus as portraiture. Portraiture is the art of drawing a picture, in which a person is studied in detail.
It also gives a glimpse of his personality. The artist or photographer observes all the expressions of that person very deeply and tries to present them. These days, a photo exhibition depicting some such expressions is going on in the Kala Source Art Gallery located in the state capital Lucknow.
This is a solo exhibition of the first photographs titled "Power of Expression" by senior artist of Uttar Pradesh, Prof. Jai Krishna Aggarwal. This exhibition is dedicated to acclaimed photographer Robin Beach.
As an artist, print artist, photographer and a memoirist, Professor Jai Krishna Agarwal is a multifaceted personality. Whatever and whenever something related to your idea and artistic world comes out of their creative mind, it is something to watch and think about. Even at the age of 82, you are very active. However, photography has been another side of you.
Actually, artist Jaikrishna Aggarwal, former Principal of Arts and Crafts College, has been more famous as a print painter, apart from painting, photography was also his favorite medium. A detailed form of which was felt while looking at the selected portraits in this exhibition. The conversation revealed that he has worked in various genres of photography for 6 decades, the main form of which has been portrait photography.
Fifty photographic portraits selected from this creative art journey spanning nearly 67 years were exhibited for the first time. These photographs were selected by senior cinematographer of the state, Anil Risal Singh. He told that Jai Sir has a large collection of photography in which his memoirs can be seen clearly. Photography has been on a different side during his lifetime. Which he keeps mentioning often.
When they called me to select these photographs, a big challenge came before me that which pictures should be selected for the exhibition and which should be left, however, only a few were to be kept in the exhibition, so 50 were selected in which the main ones were Only portraits taken at different times were taken, most of which are portraits of artists. Which reflects the real personality of those artists. Simply put, a character portrait is a description of a person and their distinctive characteristics. But it goes beyond just their physical characteristics. Character drawings can be used to explore a character's actions, behavior, and even how they make other characters feel.
Although this was Jai Sir's first photography exhibition, there will definitely be an opportunity to see other photographs through this exhibition in the future. Anil Risal believes that whatever be the art, whatever be the creation, it must be shared with the society, it is very important. And today there are many mediums to present your art to the people. If we look at the portraits of renowned sculptor Avtar Singh Panwar during his youth in the exhibition, then almost all such pictures which prominently display his personality can be seen leaving their mark.
Very rare photographs have also been included in the exhibition.
Photographs of many people including Kunwar Narayan, Avtar Singh Panwar, Madan Lal Nagar, Rewa Aggarwal, Uttam Nepali, Himmat Shah, Aastha Goswami, Vidyasagar Upadhyay are included. In this, Jai Krishna Aggarwal has presented the emotions of all the people very well through his expressions. Photographs of people of all ages have been included in this photo exhibition. From a child to an old man. Jai Krishna Aggarwal at one time also did excellent work in the world of printing which gave him fame. Which he has now abandoned, but the experiments done in those prints are now visible in his photographs also. However now they are in photographic and digital form. Currently, you continue to share your memories along with old photographs that you have taken from time to time.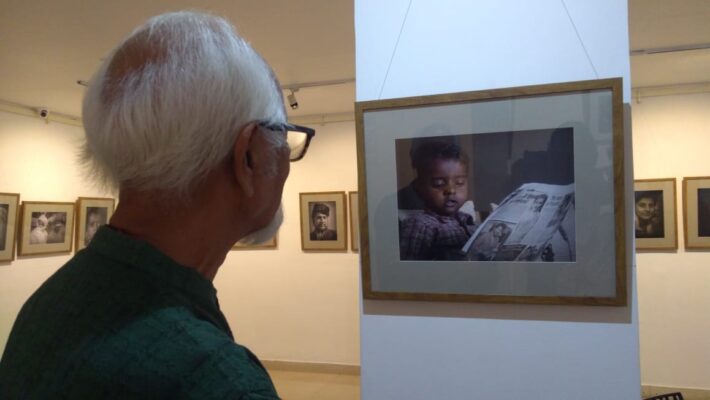 Jai Krishna Aggarwal says that I am basically a painter and printmaker. Photography has been an alternative medium of creation for me. This is the first solo exhibition after a long gap in which fifty selected photographs taken by me in the last sixty-seven years have been displayed. Aggarwal believes that the identity of any person is the strength of his personality which he has tried to depict in his photographs. He says that for me photography is another medium of creative expression. I have been taking photographs since 1956 but I have never exhibited in a photographic salon. This is my first solo show of selected images showcasing my sixty-seven years of journey in the world of photography.
नोट:
अगर आपको यह खबर पसंद आई तो इसे शेयर करना न भूलें, देश-विदेश से जुड़ी ताजा अपडेट पाने के लिए कृपया The Lucknow Tribune के  

Facebook

 पेज को 

Like

व Twitter पर 

Follow

करना न भूलें...
-------------------------