University of Lucknow Unveils Exquisite Coffee Table Book Celebrating its Rich Legacy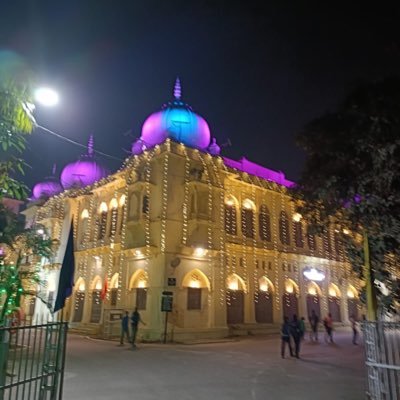 Lucknow: University of Lucknow, a beacon of academic excellence and innovation, proudly announces the launch of a magnificent coffee table book that chronicles its storied history, illustrious alumni, academic achievements, and the vibrant tapestry of campus life.
This beautifully curated masterpiece offers a compelling visual journey through the annals of Lucknow University's evolution, from its founding to its present-day achievements.
Featuring stunning photography, insightful narratives, and captivating stories, encapsulates the essence of Lucknow University in every page, drawing readers into a world of academic brilliance and community spirit.
Some of the highlights of the book include:
Historical Evolution: Explore the origins and growth of Lucknow University over the decades, as it transformed from a modest institution into a world-renowned center of learning and research.
Notable Alumni: Meet the outstanding individuals who have walked the hallowed halls of the university, leaving an indelible mark in various fields, from business and science to the arts and public service.
Academic Excellence: Delve into the university's pioneering research initiatives, innovative academic programs, and the dedication of its esteemed faculty.
Campus Beauty: Revel in the architectural marvels and natural beauty that adorn the University campus, a place where academic inspiration and serene landscapes harmoniously coexist.
Cultural Vibrancy: Immerse yourself in the vibrant cultural and artistic expressions that flourish within the university community, including art exhibitions, performances, and more.
This remarkable coffee table book serves as a testament to the dedication of Lucknow University to providing an exceptional educational experience, fostering innovation, and nurturing the next generation of leaders and change-makers.
" Lucknow University has always been a cradle of excellence, and embodies the essence of our institution, capturing its rich history and promising future. We are thrilled to share this visual journey with our alumni, students, faculty, and friends," said Prof Alok Kumar Rai, Hon'ble Vice Chancellor, University of Lucknow.
It showcases the essence of the University in a spectacular way, with stunning photography capturing the beauty of our campus, the dedication of our faculty and staff, and the enthusiasm of our students. Through this readers will explore the milestones and transformative moments that have defined our university over the years, he added.
This is not just a book; it's a piece of history, a source of inspiration, and a gateway to the heart of the University. It is a treasure for alumni, a resource for prospective students, and an emblem of pride for the entire Lucknow University community.
The coffee table book is also available for purchase at the Lucknow University IPPR office making it a perfect gift for alumni, students, faculty, and anyone who wishes to explore the legacy of this venerable institution.
नोट:
अगर आपको यह खबर पसंद आई तो इसे शेयर करना न भूलें, देश-विदेश से जुड़ी ताजा अपडेट पाने के लिए कृपया The Lucknow Tribune के  

Facebook

 पेज को 

Like

व Twitter पर 

Follow

करना न भूलें...
-------------------------