Unveiling "The Mood of Bharat this Festive Season" by The Bharat Lab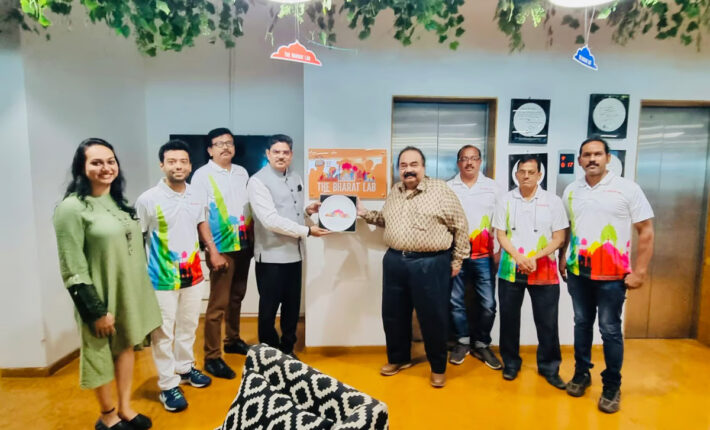 Lucknow: The Bharat Lab, a collaborative initiative between the University of Lucknow and Rediffusion, has released a comprehensive report titled "The Mood of Bharat this Festive Season." This in-depth report delves into the distinctive consumer behaviors and insights emerging from India's tier two and three markets, as well as the rural hinterland regions.
During the festive season, a surge in consumption is witnessed across various sectors, and the residents of Bharat exhibit a unique enthusiasm for stepping out, exploring malls and local markets, and engaging in purchases that span a wide spectrum – from food and sweets to gifts and new attire. This period also marks a time when many Indians contemplate significant investments, such as acquiring new properties or precious assets like gold.
The research scholars at the University of Lucknow conducted a comprehensive survey involving 1,027 consumers, with a balanced gender distribution of 52% men and 48% women. This survey was conducted in the Hindi Heartland, with a primary focus on Uttar Pradesh. The research aimed to gain insights into the preferences and shopping priorities of these consumers for the current season, with a diverse sample covering various age groups, income levels, and genders, offering a representative cross-section of Bharat's consumer base. The study delved into their spending habits across categories, including Gifting, Fashion, Jewellery, Automobiles, Home Décor, Travel, and Entertainment, in comparison to their previous year's expenditures.
Key findings from the report reveal that Home Décor (87.4%) and Fashion (83.5%) lead festive purchases, with limited interest in new vehicles (low). The report highlights a strong preference for jewelry from Indian brands, with 94.1% of respondents favoring domestic jewelry brands over foreign ones. Report also revealed that discounts (43.3%) and cultural significance (35.5%) shape buying decisions. Air pollution concerns affect firecracker purchases (72.3%). Traditional in-store shopping favoured (56.5%), especially for gifting. Mobile phones (53%) are popular gifts, with income influencing electronic purchases.
There is a notable interest in increasing gift expenditures and in electronics. Mobile phones emerge as the top choice with 53% of respondents expressing a specific interest in purchasing them. Income, on the other hand, plays a more significant role, with a greater intent to buy electronics observed among those with higher family incomes.
This comprehensive report offers valuable insights into the festive season shopping preferences and behaviors of Bharat's diverse consumer base.
Prof Alok Kumar Rai, Hon'ble Vice Chancellor of the University and Professor in the domain of Marketing appreciated the endeavors under the MoU, and said " such studies put forth the expectations of people and contribute towards developing market strategies"
नोट:
अगर आपको यह खबर पसंद आई तो इसे शेयर करना न भूलें, देश-विदेश से जुड़ी ताजा अपडेट पाने के लिए कृपया The Lucknow Tribune के  

Facebook

 पेज को 

Like

व Twitter पर 

Follow

करना न भूलें...
-------------------------