Uttar Pradesh focussing more on Organic Farming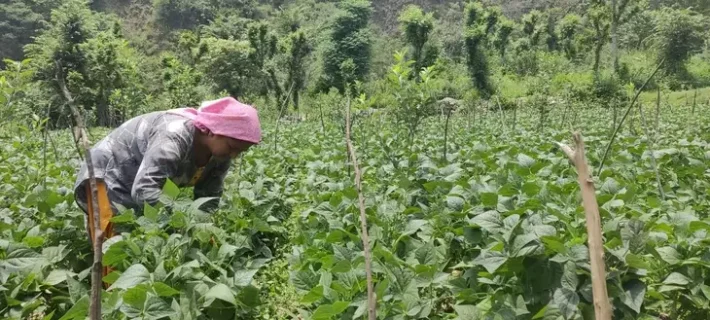 Lucknow: The farmers of Uttar Pradesh have once again turned towards organic farming. They have increased tenfold in the last six years. Statistics are showing that on an average it is increasing almost twice every year. Farmers have turned to this after realizing the disadvantages caused by the use of chemical fertilizers.
According to the data received from the government, the number of farmers doing organic farming in the year 2015-2016 in Uttar Pradesh state was 28,750. In 2022-2023 it increased to 2,89,687. If this pace of growth continues, the number of farmers doing organic farming will reach 3 to 4 lakhs in 2023-2024.
In view of the International Millet Year, the way the government is emphasizing on organic farming of millets, the possibility of this type of farming increases further.
Because the major crops of coarse grains like Sawan, Kodo, Madua/Ragi, Tangun and Bajra etc. have traditionally been grown in a natural way. Minimum water, fertilizers, growing even in adverse weather, being resistant to diseases and pests have been their specialty.
In such a situation, with the help of a little technology, their organic and natural farming has more potential than conventional crops.
Referring to natural farming, Yogi said in a program a few months ago that the state government is making efforts to encourage natural farming. Under this, testing labs will be set up at all divisional headquarters for verification of organic and natural products as per international standards. Testing labs will be set up at Krishi Vigyan Kendras in a phased manner.
This work will be completed with top priority. If experts are to be believed, Uttar Pradesh can become India's hub in terms of organic farming. There is also a great possibility of this. For example, the Indo-Gangetic belt, which is counted among the most fertile land in the world, most of it comes in Uttar Pradesh only. Uttar Pradesh has been able to do this because of rivers like Ganga, Yamuna, Saryu flowing throughout the year and nine types of agro climate zones suitable for all types of farming. Continuous efforts are also going on in this regard.
The state government is going to start natural farming work in more than 110000 hectare area in 70 districts of the state with the objective of providing maximum benefits to the farmers. Knowing that Uttar Pradesh already has ample infrastructure facilities for organic farming. The government is also continuously expanding these facilities.
For example, the National Center for Organic Farming (NCOF), the headquarters of organic farming, is located in Ghaziabad. The country's largest organic production company is from Uttar Pradesh only. Here traditional farming is still done in a large part of the state. To make Ganga pollution free, it further increases the possibilities of organic farming on its banks.
Agriculture expert Girish Pandey told an agency that in Yogi-1.0, farmers were linked to organic farming by forming clusters of organic farming. 50 farmers were linked to a cluster of 20 hectares with a target of three years. Per cluster, the government spends Rs 10 lakh in three years on everything from training to providing quality agricultural inputs. A laboratory for testing organic products is functional at Lucknow. Work is in progress at Meerut and Varanasi. During the last two years, organic farming projects have been approved in 35 districts on an area of 38,703 hectares. For this, 22,86,915 farmers have been trained. People should be aware of organic farming, in this regard, on December 16, 2021, in Agriculture Department, Varanasi, on January 22, 2020, a workshop under the Namami Gange scheme at Chandrashekhar Azad University of Agriculture and Technology, Kanpur and five agricultural universities, Krishi Vigyan Kendras (KVKs), This has been the motive of the government behind the demonstration of organic farming at Rahman Kheda Institute of Agricultural Management.
Girish Pandey told that according to the target set for promotion of organic farming in Yogi-2.0, organic farming will be promoted within a radius of 10 kilometers in all the districts along the banks of Ganga. Cow based organic farming will be promoted in all the districts of Bundelkhand. This will help in solving the problem of destitute cattle in this entire region. Organic farming will be expanded in every block of the state. With the intention of establishing separate brands of such products, separate space has been earmarked for organic outlets in each mandi. The government aims to expand organic farming on 3,00,000 hectare area of the state in the next five years and connect 7,50,000 farmers with it. Organic Agriculture Kumbh was organized by the Organic Farming Association of India from 9 to 11 November 2017 at India Expo Center and Mart Greater Noida for the promotion of organic farming. 107 countries participated in it. According to the data obtained from this, among the major states of India where certified organic farming was done at that time, Uttar Pradesh was number seven after Rajasthan, Maharashtra, Madhya Pradesh, Jammu Kashmir, Chhattisgarh and Andhra Pradesh. The total area under organic farming in the state was 1,01,459 hectares. Since then, considerable progress has been made in it.
नोट:
अगर आपको यह खबर पसंद आई तो इसे शेयर करना न भूलें, देश-विदेश से जुड़ी ताजा अपडेट पाने के लिए कृपया The Lucknow Tribune के  

Facebook

 पेज को 

Like

व Twitter पर 

Follow

करना न भूलें...
-------------------------