Uttarakhand's purest cultural display at Uttarakhand Mahotsav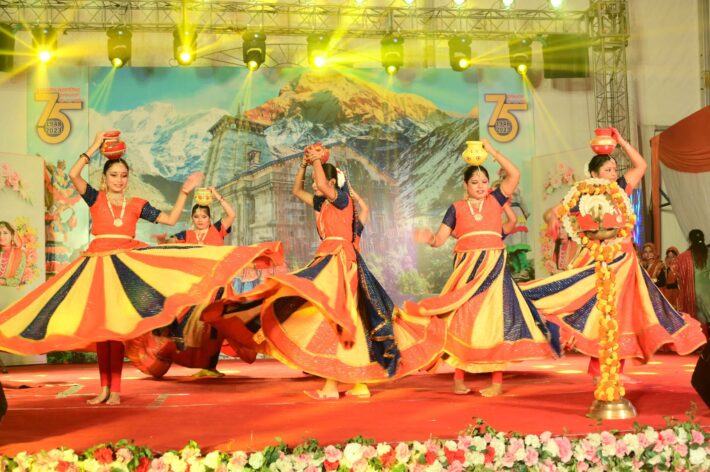 Lucknow: The poets who came to the Kavi Sammelan  of the ongoing Uttarakhand Mahotsav at the sacred Gomti Riverside (Birbal Sahni Marg), Pandit Govind Ballabh Pant, Mountain Cultural Park, enthralled the audience by reciting their creations and through their poems beautifully. Raised many questions on today's system and social scenario.
There was a huge crowd at the festival site , due to heavy shopping at the stalls, the shopkeepers were re-ordering their stock which was falling short as per the demand and the visitors were also satisfied and enjoying the festival.
Media in-charge Rajendra Singh Kanwal said that along with the products of Uttarakhand, there is a crowd at the stalls selling Uttarakhandi jewellery, Kashmiri shawls, woolen clothes, blankets etc. At one stall, visitors are also enjoying Uttarakhandi delicacies – potato gutka, raita, pakodi, maduve ki roti, jhingore ka bhaat, kadi (jholi), sweet dish – jhingore ki kheer and non-veg food.
A solo dance competition was completed under the supervision of Haritima Pant, Rajeshwari Rawat, Sunita Kanwal. 12 participants took part – First- Aditya Pandey, Second- Shubhi Aggarwal and Jeevika Pandey, Third Ojasvi and Fourth Abhishree Tripathi were the winners and Kamala Chuphal, Devshwari Pawar were the judges. Vivaan Sharma recited poetry.
Chholiya dance group-Artists of Udhanchal Art Center, Almora roamed around the festival site and presented.
All the poets who came to the Kavi Sammelan were first honored and felicitated in the traditional manner and made to sit on the stage. The poets recited one poem after another from their quiver and also released satirical arrows. The Kavi Sammelan was presided over by senior poet Ghananand Pandey Megh and the stage was beautifully managed by Puran Singh Jeena.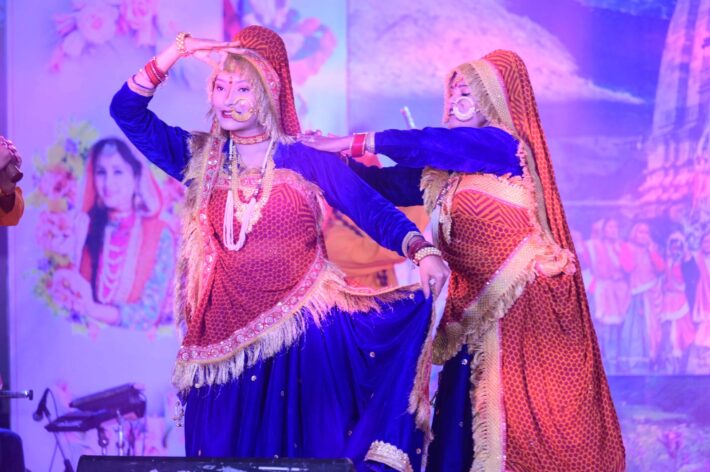 1. Ghananand Pandey Megh wrote a poem on Mother Saraswati in a melodious voice, "May your mercy be upon me, may it also be your mother, now have faith, may my mind blossom in Madhuban, some palace of poetic art, mother, please do something like this to me." He recited 'Grant a boon' and saluted him.
2. By Priyanka Bisht, young poet – Poem of separation on husband not calling for many days – Neither phone has been called nor any message for many days. Whose gaze has fallen on you that has made us strangers? I never thought that such a time would come. One day it would not be acceptable for you to meet, it would not be acceptable for us to part – gave a farewell presentation.
3. Gokul Upreti's contemporary humorous poem, Kumaon Baraat-Bya Baretin Mein Mains Kas Karni, Main Tumkain Batuni, Birauk Jas Larbarat Karni, Bottle Pakdi Ber Tantak Pichdi Bai Hit Dini Sabukai Bulluni- Baraat, made a powerful satire on the mischief done by drunkards by drinking alcohol. .
4. Girish Bahuguna Uttaranchali on sinking Joshimath – I did not build a house on the cracking mountains, I got the ancestral house, the ancestral place, I cut green trees, sought development from the government, I never thought that development would be so terrible, my birthplace. The very graveyard itself… shook us by satirizing the short-sighted construction being done by man.
5. Praveen Tiwari Dhawal – Poem on digital conversation – Misunderstandings in relationships should be removed, the amount of trust should be sufficient. Mutual cooperation is the cement, Dhawal, there must be mutual dialogue – by saying this, he attacked the lack of dialogue among the audience with his poem.
6. Shyamal Majumdar – Poem – Life is like a mountain in the mountains – Life is like a mountain in the city, and the sun had come out yesterday, today it has melted, even the sun has become bad today – attacked today's changing environment.
7. Dr. Karuna Pandey – Poem – The trust of memories is also a tear, don't shed tears, it is very precious. He was very emotional by narrating the pain of tears through poetry.
8. Puran Singh Jeena – Poem – Dagdi mera chhot gayi, Daru pee ke ton hai goi, Main apni hosh khwai gayi, Jaani kasi khoot rani goi, Dudam dadum bhayu nhai goi – Also satirized the drunkards with humor.
9. Senior poet Dhan Singh Mehta Anjaan satirized the changing mood and style of people in today's environment by narrating that it is not in my power to write a strong wind as a storm, it is not in my power to write pure gilt as silver.
Chief Guest Mr. Manish Thapliyal, DRM (Railway) Lucknow, officials of Uttarakhand General Council welcomed the Chief Guest by presenting him a bouquet, corsage and insignia. On this occasion, Chief Convener – B.S. Garbiyal, Convener – Diwan Singh Adhikari, President – Harish Chandra Pant, Senior Vice President – Mangal Singh Rawat, Vice President – Mahesh Chandra Rautela, GB Phulara, General Secretary – Bharat Singh Bisht, Secretary – Rajesh Bisht, Jagat Singh. Many officials and members like Rana, VK Joshi, Bhuvan Patwal, Bhuvan Pathak, Dev Singh Ghughatiyal, Bhuvan Tiwari, Awadhesh Kothari, Ramesh Adhikari, Paan Singh, Surendra Singh, Kailash Singh Kuldeep Dixit etc. were present.
In the Uttarakhand Mahotsav, people of different communities are being honored with Diamond Jubilee Award, today people of Bhojpuri community were honored – the Maha Parishad respects all religions and culture.
Group Matki dance by Heart and Soul Cultural Welfare Society Vikas Nagar, Lucknow under the leadership of Mandakini Shastri, presentation of women self-help group of Uttarakhand General Council under the leadership of  Pushpa Vaishnav and Fisherman dance and Lavani by Nrityangana Dance Academy under the leadership of  Anupama Srivastava. Entertained the audience thoroughly with dance etc. Swara Tripathi's devotional presentation received a lot of applause.
Four participants of the second round of Voice of Uttarakhand – Harish Vishwakarma, Laxman Singh Martolia, Balwant Vanagi and Babli Bhandari mesmerized the audience with their beautiful singing and gathered applause.
नोट:
अगर आपको यह खबर पसंद आई तो इसे शेयर करना न भूलें, देश-विदेश से जुड़ी ताजा अपडेट पाने के लिए कृपया The Lucknow Tribune के  

Facebook

 पेज को 

Like

व Twitter पर 

Follow

करना न भूलें...
-------------------------