Vindhya Club's Spectacular Monsoon Fair Drenches Members in Fun and Excitement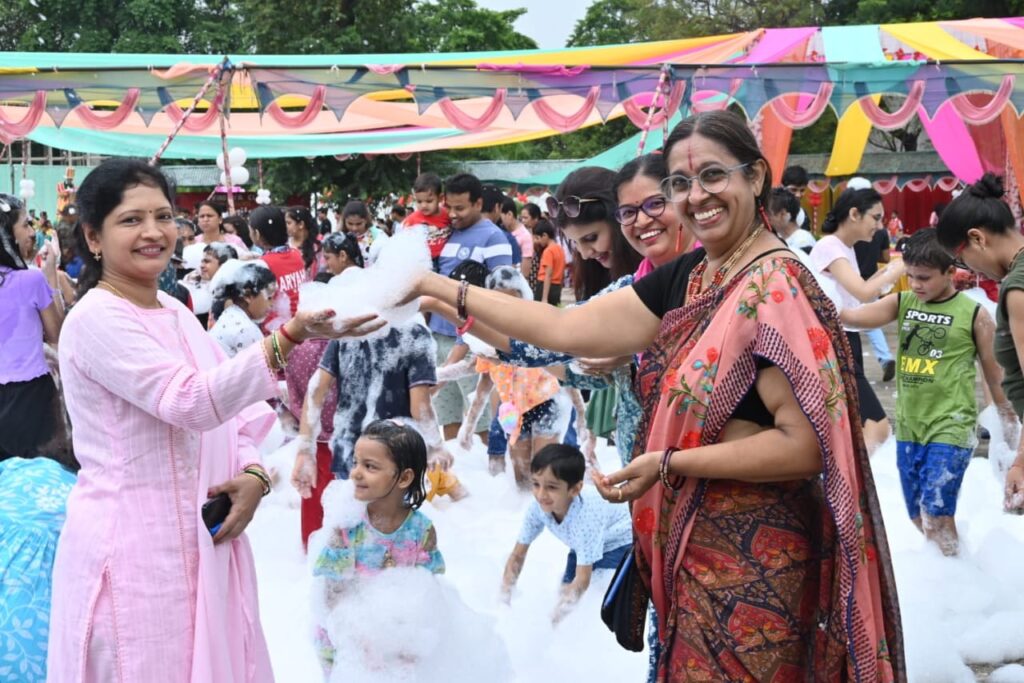 Sonebhadra,In a bid to celebrate the joyous arrival of the monsoon season, Vindhya Club, organized an exhilarating Monsoon Fair With a plethora of thrilling activities and mouthwatering treats, the event proved to be a grand success, leaving club members soaked in joy and laughter.
The Monsoon Fair, which commenced at 11:00 AM, featured an array of exciting attractions that catered to members of all ages. The highlight of the event was the highly anticipated Rain Dance, where members grooved to foot-tapping beats amidst showers of refreshing raindrops. The dance floor witnessed a kaleidoscope of vibrant colors as participants donned their brightest attire to celebrate the spirit of the monsoon.
For those seeking a unique and frolicsome experience, the Foam Party stole the show. Amidst clouds of bubbly foam, members reveled in a carefree ambiance, creating unforgettable memories with friends and family.
Adding a touch of wonder and amazement, talented circus artists dazzled the audience with their jaw-dropping performances. From awe-inspiring acrobatics to captivating magic tricks, the circus acts left spectators on the edge of their seats.
The Monsoon Fair also featured a plethora of engaging game stalls that brought out the competitive spirit in attendees. From classic carnival games to modern challenges, participants vied for exciting prizes, making the atmosphere brim with excitement and laughter.
No fair is complete without delightful culinary delights, and the Monsoon Fair at Vindhya Club did not disappoint. The organizers left no stone unturned in curating a delectable spread of mouthwatering dishes. From savory street food to indulgent treats, the diverse range of cuisines catered to the diverse palates of the attendees.
Members expressed their delight and appreciation for the seamless organization of the Monsoon Fair. "It was an incredible experience! The rain dance was an absolute blast, and the foam party was a unique and enjoyable addition. The circus acts were mesmerizing, and the game stalls brought out the child in me. Overall, it was a fantastic event," said Shri E satya Phani Kumar, CGM (Vindhyachal).
The management of Vindhya Club extended their gratitude to all the members for their enthusiastic participation and overwhelming support in making the Monsoon Fair a grand success. The event showcased the club's commitment to providing top-notch recreational experiences for its members, strengthening the bond of camaraderie within the community.
As the Monsoon Fair concluded, it left behind a trail of cherished memories that would be etched in the hearts of Vindhya Club's members for years to come. With the resounding success of this event, the club community eagerly awaits more such engaging festivities in the future, as Vindhya Club continues to be a bastion of joy and togetherness for its members.
Ravindra Kesari Sonebhadra
नोट:
अगर आपको यह खबर पसंद आई तो इसे शेयर करना न भूलें, देश-विदेश से जुड़ी ताजा अपडेट पाने के लिए कृपया The Lucknow Tribune के  

Facebook

 पेज को 

Like

व Twitter पर 

Follow

करना न भूलें...
-------------------------