Voters will decide the fate of the state says Rajnath Singh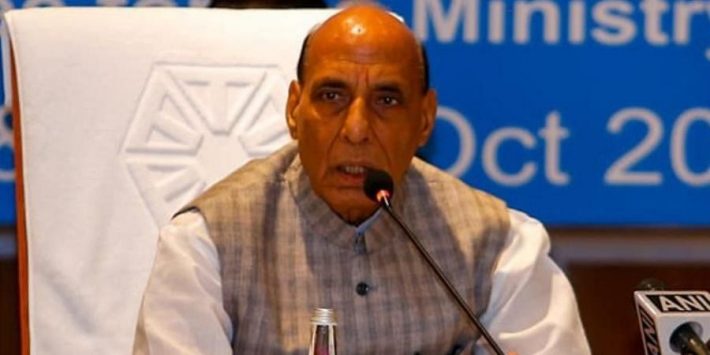 Lucknow: Defense Minister Rajnath Singh said this time in the assembly elections, the voter will not only do the work of forming the government but will also write the fate of the state. Said that BJP does not do power politics by dividing the society. Along with development, we are also in favor of preserving the heritage. The BJP government has done this work.
Defense Minister Rajnath Singh was addressing the 'Effective Voter Dialogue' program at SKV School in village Bankner. He claimed that since 2014 till now there has been no allegation of corruption against the BJP government. Whereas the governments of other parties have been tainted with corruption.
BJP does what it says. Rajnath said that development has taken place on a large scale in the state. Uttar Pradesh Chief Minister Yogi Adityanath has maintained law and order. Work is being done to build houses for the poor there by running bulldozers on the vast and illegal properties of criminals. Now no one can muster the courage to riot in UP. Opponents want to divide society
Rajnath Singh said that SP, BSP and Congress want to do politics by dividing the society, but BJP does not do politics of dividing the society for the sake of power. He said that the Yogi government of BJP has given freedom from the hooliganism that took place under the SP rule. Such is the Ganges of development that now the repair work of airplanes, helicopters will be done at the Jewar airport in Uttar Pradesh, which used to be done abroad. With this, industries will be set up around jewelry, youth will get employment. Reminiscing about the surgical strike, he said that India is no longer a weak, but a strong country. Defense Minister Rajnath Singh said that he is addressing such a small gathering for the first time. Never before have there been smaller public meetings than this. This is the charisma of Corona. He said that Kasganj is not only Kasganj for us, it is Khasganj.
In his address, the Defense Minister remembered former Chief Minister Late Kalyan Singh. Said that the sacrifice of Kalyan Singh cannot be forgotten that he stole the power for the temple of Lord Shri Ram. Approved to go to jail, but did not fire on the kar sevaks. He has been awarded the Padma Vibhushan, the highest civilian honor by the Government of India. It is also a matter of pride for the people of Kasganj.
नोट:
अगर आपको यह खबर पसंद आई तो इसे शेयर करना न भूलें, देश-विदेश से जुड़ी ताजा अपडेट पाने के लिए कृपया The Lucknow Tribune के  

Facebook

 पेज को 

Like

व Twitter पर 

Follow

करना न भूलें...
------------------------- --------------------------------------------------- -------------------------------------------------------------------------------------------------------------------------------------------------