Warm clothes distributed to the needy as winter sets in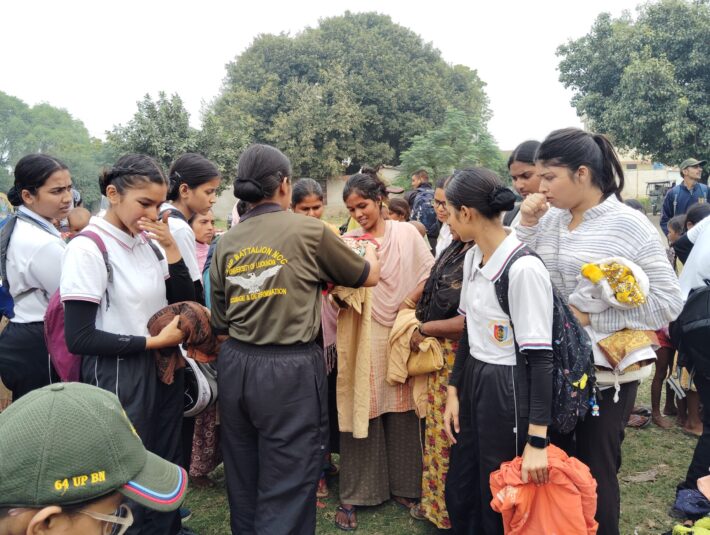 Lucknow: On Saturday, a clothes distribution activity was organized by the cadets of 64 UP BN NCC, Lucknow University, Lucknow, which has been doing this distribution of clothes for many years on the day of Chhoti Diwali. In continuation of the tradition,  old clothes were collected. Today, on the day of Chhoti Diwali, clothes were distributed to the needy people.
Good work never goes extinct. He who sows courtesy, reaps friendship, and he who sows kindness, reaps love. Keeping this statement in view, a clothes distribution ceremony was organized for a social purpose by the cadets of 64 UP Vahini NCC, Lucknow University, Lucknow.
Cadets walked on foot from Gate No. 1 of Lucknow University to Daliganj slum and distributed clothes to the needy people of the slum. The main objective of this distribution activity was to bring smile on the faces of the needy and help someone in need.
During this activity, NCC officers of National Cadet Corps 64 UP Vahini, Dr. Rajneesh Kumar Yadav, Ashutosh Bhargava, Anand Kumar Yadav, Suraj Yadav, Senior Under Officer Abhishek Kumar, Under Officer Roshni, Under Officer Ayush Patel along with NCC I, II were present.
नोट:
अगर आपको यह खबर पसंद आई तो इसे शेयर करना न भूलें, देश-विदेश से जुड़ी ताजा अपडेट पाने के लिए कृपया The Lucknow Tribune के  

Facebook

 पेज को 

Like

व Twitter पर 

Follow

करना न भूलें...
-------------------------