We refuse to bow down in front of the BJP says Priyanka Gandhi Vadra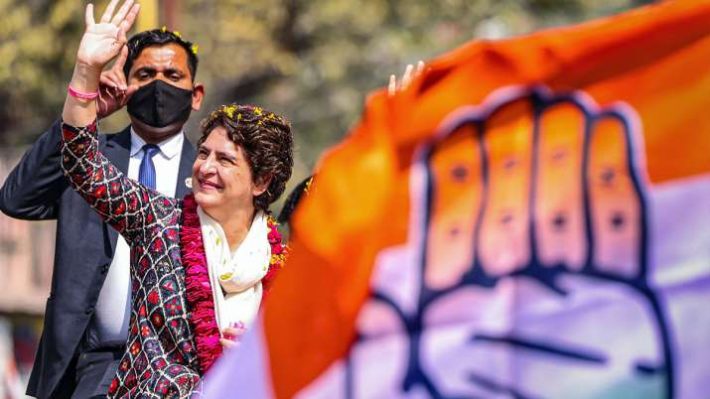 Lucknow: Congress General Secretary Priyanka Gandhi appealed to help the Congress party win in Uttar Pradesh by holding public meetings at Indira Gandhi PG College, Madhuban in Mau district, in Khairabad, Mohammadabad, Gohna and Rani ki Sarai in Azamgarh.
She said that those who ask for votes by raising your feelings in the name of religion, caste, do not vote at all. Targeting the political parties, he said that the Congress party is fighting with the BJP, with the RSS, with the generations. They know that the leaders of the Samajwadi Party will bow down, the leaders of the BSP will bow down, they will lurk in their homes, but the Congress party will not be afraid of them, nor bow down in front of them, but it will fight for justice and will face the BJP. There has never been a war in history that was won without a fight. These SP-BSP are not fighting, how will they win? They will compromise, stay in their homes after compromising for five years, will do the same even if the government is formed. These people cannot face the BJP, that's why the BJP attacks the Congress, my family, because it knows that we will not bow down. Take us into custody, put us in jail, take our lives, we will not bow down to them.
She said that some say they will remove fat, some say they will remove heat. Who is talking about your recruitment? Who is talking about your farming? Someone is talking about pushing you? They are not to blame, you are to blame because you don't ask them questions. The Prime Minister himself says that an elderly woman said that I will not betray Modi ji because I have eaten Modi ji's name. This is the mindset of the Prime Minister that he is saying that people are eating his salt.
She said – There have been three Prime Ministers in my family, no such thing ever came to anyone's mind. Because he knew he was your servant, you did him a favor, made him a leader. You gave them power on loan. It was his duty to serve you, in Uttar Pradesh Congress today every worker, leader, office bearer knows that his duty is to work for you. Whenever there is atrocities in the entire state, the poor are exploited, then the people of Congress are the first to be seen fighting to fight for justice. The Prime Minister, instead of demanding his resignation, shares the stage with the minister whose son crushed the farmers in Lakhimpur with his jeep.
The Congress General Secretary said that today the people of Uttar Pradesh are facing unemployment, inflation and atrocities. Youth are not getting employment. Inflation has become a big problem. A daily wage earner does not get a bottle of mustard oil.
Petrol and diesel prices have gone up beyond the limit. Farmer brothers do not get the price of the crop, they do not get fertilizer. No one talks about the troubles you are facing every day for your livelihood.
Where did these leaders get so much courage that they do not even talk to you in front of you? On one hand the people of the state are facing problems. Inflation is the problem of unemployment. On the other hand, all the parties, all the leaders, they come in front of you, then they are not talking about your problems. They talk about Pakistan and bulldozer in front of you.
She said that farmer brothers, it is difficult for our weavers to earn money. There is a problem with the animal. The package which was there for the weavers during the time of Congress has come to an end.
Electricity has become expensive. It has become difficult for the people to earn their livelihood. The Prime Minister himself said that he was not even aware that there was a problem of stray animals in the state.
Their government at the center, their government in the state, but you have given them so much courage that they say that they do not even know your problem. How did they get the courage to be ignorant of your problem? Because they know that if you talk passionately about caste, religion, then you will get into their talk. They know that after 5 years they will come and take your vote on their own, so they talk deceitfully.
The Congress General Secretary targeted the political parties and said that at the time of elections, all these people make false statements and empty announcements. The leaders of SP, BSP and BJP know that when religion talks about caste, your feelings will emerge.
She knows that there is only one way to get votes in this state and that is caste and religion. After that he remains missing for five years. Because he knows that by raising emotions, he can take votes. Talking about caste and religion will only benefit the leaders. Power will continue to come and it will continue to make policies for its big industrialist friends.
And will deliberately push the poor, youth and women of the country into the same abyss. Because they know that as long as you are poor, uneducated, it will be easier to use your emotions. When you will become strong and capable, then you will start asking questions to these leaders that what have you done for us who are giving these big speeches.
नोट:
अगर आपको यह खबर पसंद आई तो इसे शेयर करना न भूलें, देश-विदेश से जुड़ी ताजा अपडेट पाने के लिए कृपया The Lucknow Tribune के  

Facebook

 पेज को 

Like

व Twitter पर 

Follow

करना न भूलें...
------------------------- --------------------------------------------------- -------------------------------------------------------------------------------------------------------------------------------------------------