Weatherman predicts heavy rains in 30 districts of Uttar Pradesh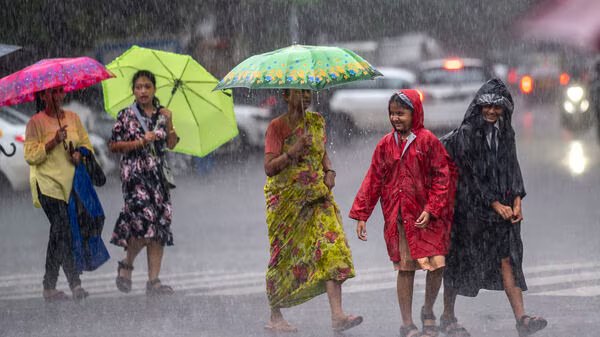 Lucknow: The weather patterns have changed in Uttar Pradesh. Changes are being seen continuously in the weather. The rains that have been continuing for three days may once again return to normal. However, after 3 days of normalcy, there will be significant changes in the weather again. Very heavy rains are forecast in more than 30 districts of Uttar Pradesh over the course of the next 48 hours.
With the sky being cloudy on Friday, heavy rain with thunderstorms can be seen in 30 districts, while heavy to very heavy rain has been predicted on Saturday and Sunday.
There will also be a situation of thunderstorms in many districts from September 15 to September 18. With the activation of monsoon on Tuesday, heavy rains have been recorded in North West Uttar Pradesh and North East India.
The weather remains normal in western Uttar Pradesh. On 17th and 18th, extremely heavy rain with thunderstorms will be recorded at one or two places in Western Uttar Pradesh. Moderate to heavy rain forecast in these districts
From 14 to 17 September, Pratappur, Jaunpur, Ghazipur, Varanasi, Chandauli, Saharanpur, Shamli, Muzaffarnagar, Meerut, Moradabad, Shahjahanpur, Hardoi, Kannauj, Barabaki, Rae Bareli, Amethi, Sultanpur, Lakhimpur Kheri, Kannauj, Shravasti of Eastern Uttar Pradesh. Moderate to heavy rain has been predicted in Lucknow and Unnao.
Warning of heavy rain in 12 districts.
Also, warning of heavy rain has been issued in Mainpuri, Etawah, Auraiya, Kanpur Dehat, Agra, Kaushambi, Sonbhadra, Chitrakoot, Fatehpur, Banda, Hamirpur, Mahoba, Lalitpur, Jhansi, Jalaun, Faridabad, Prayagraj, Mirzapur, Kaushambi. Today, drop in temperature will be recorded in Basti, Jhansi, Orai, Hamirpur, Bareilly, Najibabad, Moradabad, Muzaffarnagar, Meerut, Agra, Aligarh and Bulandshahr.
There will be movement of clouds at many places. The rain is going to continue this week. There may be moderate rain with thunderstorms in some districts of the Terai belt of western Uttar Pradesh. According to the Meteorological Department, heavy rain has been predicted in the state due to the formation of a new cyclone in the Bay of Bengal. A warning of moderate rain and lightning has also been issued in many districts till September 17.
320 mm rain recorded in Barabanki and Rampur in 24 hours
At present, this activity is going to continue till Monday in Uttar Pradesh with torrential rains, strong storms and lightning that started from Sunday. Barabanki and Rampur have recorded 320 mm rainfall in the 24 hours that started at 8:30 am on Sunday. Rainfall ranging from 270 to 150 mm has been recorded in Moradabad, Sambhal, Hardoi, Hathras, Kanpur and Kasganj.
Alert in these districts
The swollen rivers have created a flood situation in 10 districts while heavy rains along with lightning and floods have been predicted in the next 24 hours. Warning of heavy rain has been issued in Hardoi, Barabanki, Pratapgarh, Kannauj, Amethi, Deoria, Jalaun, Kanpur, Unnao, Sambhal, Rampur districts. The districts where rain has been predicted. In this, warning of heavy rain has been given in Hardoi, Sitapur, Lakhimpur Kheri, Lucknow, Unnao, Kanpur, Kannauj, Auraiya, Etawah, Ambedkar Nagar, Sultanpur, Ayodhya and Amethi.
Apart from Sultanpur, Ambedkar Nagar, Ayodhya, Barabanki, Basti, Sitapur, Bahraich, Gonda, Balrampur, Shravasti, Shahjahanpur, moderate rain with strong wind has been forecast in many districts of eastern Uttar Pradesh. Warning of heavy rain has been issued in Rae Bareli, Amethi, Sultanpur, Ayodhya, Ambedkar Nagar and surrounding areas.
नोट:
अगर आपको यह खबर पसंद आई तो इसे शेयर करना न भूलें, देश-विदेश से जुड़ी ताजा अपडेट पाने के लिए कृपया The Lucknow Tribune के  

Facebook

 पेज को 

Like

व Twitter पर 

Follow

करना न भूलें...
-------------------------