Women have raised their flag in every field: Mayor Sanyukta Bhatia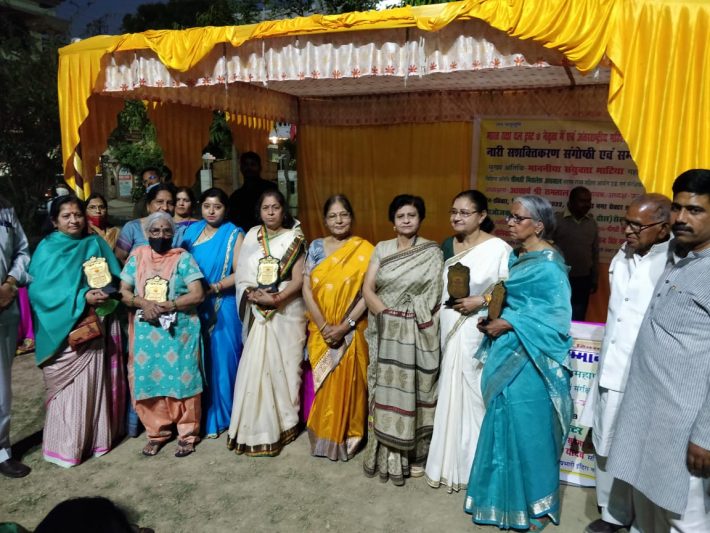 Lucknow: Mayor  Sanyukta Bhatia was the chief guest at the Women's Empowerment Seminar and Honor Ceremony organized under the joint aegis of Jan Kalyan Samiti and Bharat Raksha Dal at Chota Park, located in Indira Nagar Sector-9, on the occasion of International Women's Day. Speaking on the occasion, Mayor  Sanyukta Bhatia said that women raised their flag everywhere. Talking about women today, they have got less opportunities. But when given the opportunity, she has also proved that she is not less than anyone but more, whether it is the matter of medal in the Olympics, the top of Everest or the fight on triple talaq and other women's social issues, in today's women.
Mayor Sanyukta Bhatia further said that our respected Prime Minister Narendra Modi and Chief Minister Yogi  have left no stone unturned to provide equal status to women, today the name of the woman is registered in the ration card as the head of the household, She said this is the result of the vision and thinking of Prime Minister to advance women. Mission Shakti Abhiyan by CM Yogi  has brought self-confidence among the women of the state, today the women power of the state is not behind men on any front. Our government has empowered women by reaching out to them, there is an opportunity to move forward from these schemes.
The Mayor further said that we are half the population of the country. Whenever a woman gets a leadership opportunity, she worries about the entire women community. In the history of 100 years of municipal corporation, I am the first woman mayor of the capital of the country's largest state, many women councillors came here after electing us, but most of them were dominated by their husbands, my first work for those women councilors. It was to bring out the leadership ability within them, so we banned the entry of the representatives of those women councilors in the house of the municipal corporation and asked all the women councilors to speak and present their own subject in the house.
After that, in the history of the elected legislature, I called the last Women's Day the Historical Women's House, in which only all the women councilors had to discuss the issues and schemes of women and implement them, this house was very successful and many women councilors for the first time He raised his voice brilliantly. On this occasion, the Mayor also honored women who did excellent work.
On this occasion, the mayor was accompanied by the member of the State Women's Commission,  Mithilesh Agrawal , the chairman of the public welfare committee and former MLA  Ramlal , the founder of Bharat Raksha Dal, Shrinivas Rai , Dr. Shraddha Sinha,  Sushma Agarwal ,  Rajendra Singh Yadav ,  Sunita Goyal  and others were present.
नोट:
अगर आपको यह खबर पसंद आई तो इसे शेयर करना न भूलें, देश-विदेश से जुड़ी ताजा अपडेट पाने के लिए कृपया The Lucknow Tribune के  

Facebook

 पेज को 

Like

व Twitter पर 

Follow

करना न भूलें...
------------------------- --------------------------------------------------- -------------------------------------------------------------------------------------------------------------------------------------------------