Youngsters groove to K – Pop beats at SR Group of Institutions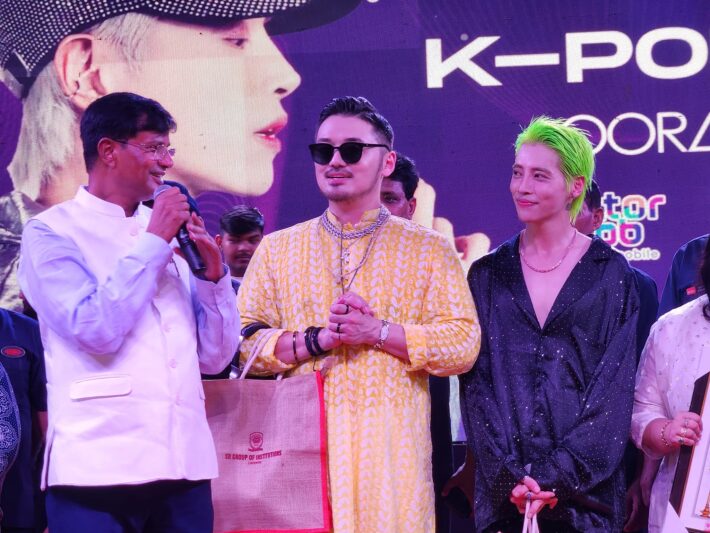 Lucknow: Uttar Pradesh and Korea have a blood relation which dates back two thousand years. Princess Suriratna of Ayodhya, who later became the Queen of Korea and was named Maharani. The state government is increasing cultural interaction between the two countries. A music festival is being organized across the state by the Tourism Department, in which South Korean pop artists Aoora and Fridayyy are giving a spectacular performance. On 15th September i.e. Friday, Lucknow based SR Group of Institutions Bakshi Ka Talab  at Sitapur Road hosted the pop sensation from 6 pm. After this, programs will be held in Kanpur on 16 September and Agra on 27 September.
The Tourism and Culture Minister said that South Korea has an old relationship with Ayodhya. Many people there consider Ayodhya as their maternal home. Music is a medium through which emotional relationships are formed. Relationships will become more intimate with the presentation of Aoora and Fridayyy. There is no dearth of fans of South Korean pop music in India.
Here a large number of people, especially the youth, see, hear and understand this genre of music. In future, they will also give opportunity to the artists from here to go to South Korea. The endeavor is to make the country a world leader in the field of culture. He said that the Tourism Department is also celebrating the 50th anniversary of diplomatic relations between India and South Korea. In February-March, 108 Buddhist pilgrims from South Korea visited the Buddhist circuit here.
Special Secretary Tourism Ashwini Kumar Pandey said that to further deepen the relations between the two countries, the series of music festivals started on September 12 from Sharda University, Greater Noida. On 13th, Mainpuri and Firozabad artists gave their presentation.
On 15th September, Lucknow based SR Group of Institute Bakshi Ka Talab  organized this event and everyone was left awestruck. After this, programs will be held at Allenhouse Group of Institutions in Kanpur on 16 September and at Sanskriti University in Agra on 27 September.
Korean artists, who reached Lucknow after showcasing their art in Greater Noida, Firozabad and Mainpuri district, said that they are liking UP very much. There is a lot of enthusiasm among the people here. We are learning from here.
Queen Ho, wife of King Kim Suro, the founder of the ancient Korean kingdom, was a resident of Ayodhya. Ho was the queen whose real name was Suriratna. She had gone to Korea about two thousand years ago and remained there after marrying Kim Suro to fulfill her father's dream. The memorial of Queen Ho is situated on the banks of Saryu in Ayodhya. According to Korean history, Princess Suriratna from Ayodhya reached Korea and married King Kim. Here her name became Maharani.
नोट:
अगर आपको यह खबर पसंद आई तो इसे शेयर करना न भूलें, देश-विदेश से जुड़ी ताजा अपडेट पाने के लिए कृपया The Lucknow Tribune के  

Facebook

 पेज को 

Like

व Twitter पर 

Follow

करना न भूलें...
-------------------------